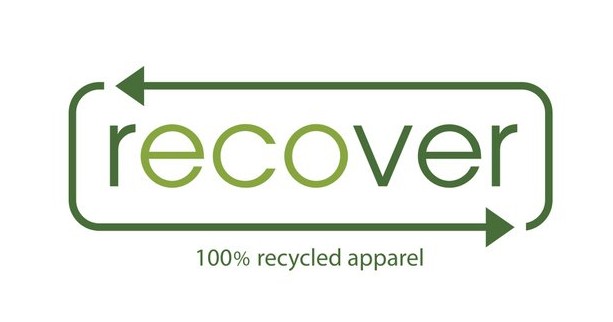 For many, recycling is an abstract idea that they do because they know they should. What they do not know is what can actually be done with their recycled materials. That's why most people are shocked to find out that at
Recover
, we can turn recycled plastic bottles into clothing that is just as high quality, comfortable and stylish as any "normal" apparel. Recover makes 100% recycled apparel and fine-tunes every aspect of the manufacturing process to ensure that its garments are the most eco-friendly and socially responsible clothing possible. It starts with the source material itself. We take typical plastic bottles and presort them by color (this is very important, and I'll explain why below) before shredding them down to a shavings-size bulk. This bulk is then melted and turned into a polyester fiber — think of Play-Doh going through the spaghetti maker — that is as strong and high quality as any virgin polyester.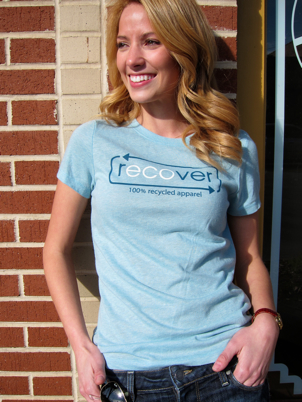 The cotton comes from industry scraps and leftovers that would otherwise go to landfills. We take these two materials and blend them into a yarn and then manufacturer that yarn into a fabric. This is then cut and sewn into shirts, hoodies, collared shirts, performance wear — you name it! But it is not enough to be the most eco-friendly apparel line possible. The reason the recycled materials, both the cotton and polyester, are presorted by color is to avoid using dyes. By skipping this step of the manufacturing process, Recover saves a tremendous amount of water, energy and chemicals. Where a typical cotton shirt is produced using more than 70 gallons of water (that's conservative — many use more than 700 gallons), a typical Recover T-shirt uses about 1 gallon of water — a significant difference by any standards. This leads to other benefits as well. Energy consumption is reduced by 66% and greenhouse gas emissions are reduced by 35%, as well as the considerable chemical runoff that is avoided. Really, the sky is the limit on what we can make with these materials, but it does not benefit anyone when they end up in landfills. That is why part of Recover's mission is to raise awareness for sustainability and ecologically responsible practices. Americans use 2.5 million plastic bottles
every hour
, and most of those are thrown away. It takes just eight plastic bottles to make a Recover T-shirt, and that is just one of the many other things that can be done with plastic. About 1 million sea creatures die every year from plastic garbage that ends up in the ocean, not to mention there's an entire floating island of plastic in the Pacific Ocean. We need to recycle! People also tend to assume that eco-friendly products must cost more and are therefore not practical. Recover is proving that responsibility can be economically sensible. Our prices are competitive with the industry (if not better), which is important in demonstrating the potential for sustainable practices in the manufacturing world. You can check it out for yourself at
recoverbrands.com
, and learn much more about all things Recover. Please contact us with any questions. We specialize in custom bulk orders with or without printing, as well as a wide range of other options.
Cheers! — Theo
Timothy "Theo" Moore is the newest member of the Recover team. Moore focuses on sales, social media and digital marketing, but since Recover is still a start-up, he dabbles in every aspect of the business and does whatever is needed each day. Moore and Recover co-founder Bill Johnston met through an outdoor travel program that they both worked for, teaching outdoor education to teenagers. Now their business meetings are often conducted on daily mountain bike rides through the western Northern Carolina mountains. Reach Theo at theo@recoverbrands.com.