Background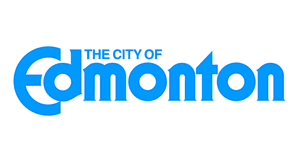 Edmonton (pop. 812,201), the capital of Alberta, Canada, has a successful and informative recycling program. Edmontonians send about 200 tons to the city's
materials recovery facility
daily — more than 100 truckloads. The city operates a "triple play" of recycling options. Standard blue bags are the method for residents in houses, duplexes and fourplexes. These bags, available at all major groceries throughout town, allow residents to bundle all recyclables together in a single-stream method. A blue bin is used for curbside collection at apartments, condos and townhouses. These bins are placed in common areas for easy resident recycling. The bins accept the same materials that the blue bags accept. "
Recycling depots
," located throughout town (22 exist at the time of publishing), are also a popular drop-off option, as they are open 24/7 and often accept more materials than the curbside program. Several of the depots now accept clothing and other textiles for recycling as well.
Materials recycled
Paper
Including phonebooks, newspapers, magazines, soft-cover books, flyers, envelopes, writing and computer paper, paper egg cartons, paper bags, non-metallic gift wrap, cardboard boxes (flattened with liners removed), milk cartons and juice boxes. Shredded paper not accepted.
Plastics
Accepted items include all plastic household containers and plastic grocery, bread, retail and dry-cleaning bags (collected in one bag and tied closed). All items must be clean. No lids or caps.
Metals
Food, soup and drink cans, aluminum cans, aluminum trays, aluminum pie plates and empty aerosol cans (all must be rinsed/cleaned)
Glass
Any glass containers (rinsed, no lids or caps)
Frequency
Curbside pick-up occurs on a weekly basis (a collection schedule is available
online
) on the same day as garbage pick-up. Blue bags must be placed curbside no later than 7 a.m. day of pick-up.
Other programs
The City of Edmonton has run an
aggregate recycling program
since 1978. Today, more than 99% of all aggregate rubble collected in Edmonton is recycled. In all, up to 200,000 tons of aggregate is recycled annually. Edmonton collects Christmas trees for composting each January since 1990. In 2012, 13,546 trees were collected. E-waste and household hazardous waste can be dropped off for free at any of Edmonton's three Eco Stations (hours vary). Accepted items include monitors, small appliances, power tools, printers, leftover paint, household cleaners, car batteries and more. The Eco Stations offer a paint exchange for any usable paint that is dropped off. Customers can take up to four cans per visit. The city has given away more than 350,000 liters of paint since 1995. Recycling is even at the forefront of each election cycle. Edmontonians are encouraged to recycle deconstructed election signs at
designated locations
following the election results.
More information
Visit the
City of Edmonton Recycling website
for more recycling program info.