Background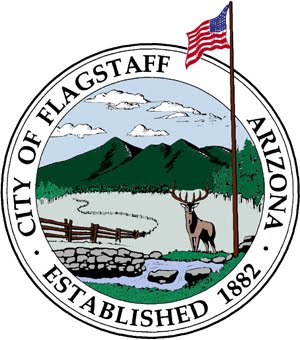 Northern Arizona's most populous city, Flagstaff (pop. 67,468) is the area's economic and transit center and the gateway to Arizona ski country and the Grand Canyon. "Green" has always been in style with the area's college students and outdoor recreation buffs in these parts. Flagstaffians recycle curbside using 90-gallon bins provided by the city. The curbside service is single stream for typical recyclables, but glass pick-up is separate and charges a monthly subscription fee.
Materials recycled
Paper
Including cardboard (flattened), dry food boxes (no frozen food boxes), pizza boxes (clean only), magazines, newspaper, catalogs, letters, junk mail, white paper, colored paper, shoe boxes and shirt boxes. Shredded paper (no cross- or diamond-cut) must be placed in a tied clear plastic bag.
Plastics
All plastic containers marked #1 through #7 are acceptable. Lids can be included, but must be separate from the bottles or jugs. All plastics must be clearly marked with their number and can be placed loosely in the bin, but must be clean. No plastic bags, plastic wrap or Styrofoam accepted.
Metals
Including steel, tin and aluminum cans, aluminum foil and paint cans (all items must be emptied and clean).
Glass
Glass containers and bottles are recyclable by subscription service for all Flagstaff residents. Glass is collected in a 48-gallon bin and picked up on the same day as bulk pick-up. The service costs $3.55 per month per household. Glass is also recycled at
drop-off locations in Flagstaff
.
Frequency
Curbside pick-up occurs on a weekly basis, but on different days than trash pick-up (a "collection section" map is available
online
). Carts must be placed curbside by 6 a.m. day of pick-up.
Other programs
Phone books cannot be placed in curbside bins, but there is a drop-off program each spring for those unwanted bulky books. The program runs from May 1 to July 31 at the Materials Recovery Facility at 1800 E. Butler Ave. Hours are Monday through Friday, from 8 a.m. to 4:30 p.m. and Saturday, from 8 a.m. to noon. Tours of the MRF are also available every Friday at 3 p.m. No registration required.
More information
Visit the
City of Flagstaff Residential and Recycle Collection Services website
for more recycling program info.