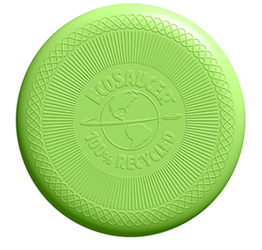 Why are most outdoor kid's toys assembled from materials made from nonrenewable resources? It's quite a dilemma. Obviously, we want our children outdoors playing whenever possible. There are so many
studies
linking outdoor play to healthy and happy children. So, when I heard about
Green Toys
' Ecosaucer Flying Disc, I was elated. My daughters love to play Frisbee, but I always felt a little guilty about buying the plastic discs again and again because they eventually get lost or chewed up by dogs that equally love the sport. The co-founder of Green Toys, Laurie Hyman, is a mom who began the company because she wasn't seeing any green toys on the market for her own children. Her priority is making toys that are safe for children and for the environment. Now I don't feel so guilty.
Ecosaucer Flying Discs
are made in the U.S. from 100% recycled plastic milk containers.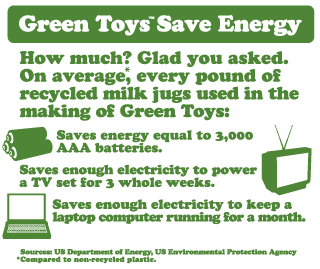 Here's how Green Toys does it: The company uses
recycled milk cartons
as the main ingredient in making its toys. The milk containers are collected by local recycling companies that sort them from all the other types of plastic. Next, the milk containers are reprocessed into fresh high-density polyethylene. This material, according to Green Toys, is considered one of the "safest, cleanest plastics around." The environmental mission of Green Toys also extends to the brand's packaging. The company endeavors to minimize packaging, so its boxes are made from as little material as possible. All Green Toys products are packaged in recycled corrugated boxes with no plastics, cellophane or twist-ties. All of the packaging is 100% recyclable and printed with soy-based inks. Green Toys products are tested by nationally recognized, independent, third-party labs located in the U.S. The toys contain no traceable amounts of
phthalates
or
BPA
. They are also designed without any external coatings, eliminating lead paint fears.
To learn more about Green Toys, visit greentoys.com.