It seems that composting is no longer just for eco-fanatics, as it is now becoming a daily addition for many. Not only is it a great way to reduce your trash that heads off to the landfill, but our gardens also often reap the benefits. Composting is simple, and with so many types of composters offered these days, it certainly makes it easier for everyone to get involved.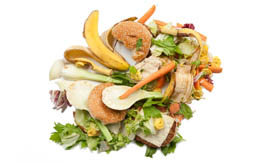 A common composting complaint is that many people don't want a bucket of stinky food scraps rotting in their kitchen before it goes outside. If you are using the correct kitchen composter, this shouldn't be the case. Look for carbon fiber filters and air vents when selecting a kitchen composter. Is it sturdy? Definitely consider durability, because you will be using it daily. There are many different ways to compost, such as vermicomposting (with worms), hot and cold composting (outside) and grub composting (utilizing grubs), but we decided to choose six indoor composters that are super easy to maintain.
If you have thought about composting but have hesitated to get started, these products will make it an easy transition for you. Are they any others that our readers recommend? Let us know!