Ew. Garbage? Who in their right mind would want to dumpster dive in the name of cutting-edge style? These days, it seems like everyone is in on the fun. Major designers the world over have stepped up to the reclamation plate in an effort to demonstrate that there is beauty and creative potential in that which is typically made to be utilized just one time before being chucked.
You have heard of
Nancy Judd
, right? For years, she has made a splash thanks to her crafty trashy couture confections that showcase everything from
crime scene tape
and
rusty nails
, to
junk mail
and
shower curtains
. So, too, has
Gary Harvey
, with his witty array of flouncy frocks expertly crafted with
empty skincare packaging
and
magazine pages
, or Susan Stockwell, with her unique collection of
map-crafted
and
coffee filter-tufted
dresses. Candy wrappers, old newspapers, plastic bottles — they're all fair game, as are broken objects, obsolete cultural artifacts and factory floor bits and pieces that would otherwise be swept into the bin. The coolest part, though, is that you don't have to be formally schooled in the fine art of fashion design to exercise your innate trash-repurposing abilities. Tread with caution, though. This is one creative experience that you'll quickly discover can be incredibly addictive.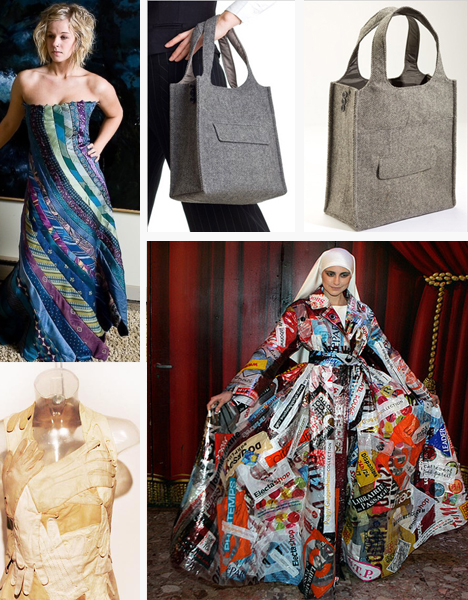 Post-consumer packaging…
can be refashioned into
collaged, waterproofed umbrellas
;
rainbow-sweetened drink-pouch belts
; 
floral-shaped cereal and cracker box pins
; and
6-inch peep-toe, slingback, Christian Louboutin heels
. Word on the street is that babies even go gaga for these booties made out of
recycled ramen noodle packages
!
Bubble wrap…
can be refashioned into a
form-fitting cocktail dress
, a
strapless version with a full skirt
, a
honeycomb-like necklace pendant
or
bold-looking men's ties
. It is also a great material to incorporate into your
artistic creations
.
Aluminum cans…
can be refashioned into
barely there bikinis and swimming trunks
,
supportive undergarments
,
stylishly arresting high heels
,
farmer's market-worthy bags
,
wrist cuffs
or
charm necklaces
, or used to make a
petal-covered skirt
. (Here's an
easy recycling project
to get your juices flowing.)
Magnetic PET video or cassette tapes…
can be refashioned into a
futuristic, sci-fi combo
; an
elegant evening look
; a
dramatic full-length coat
; conveniently
waterproof beach attire
; and even hand-woven
purses
or
neck adornments
.
Old men's suits…
can be refashioned into a
multilayered dress
, a
criss-cross vest top
or a vast array of
reinvented garments
and accessories like
totes
and
"power suit" bags
.
Garbage bags…
can be refashioned into a
perfectly plastic '80s-style jacket and matching skirt ensemble
, a
transparent fairy tale gown
or a
Marie Antoinette-era costume
, or fused onto old bedding to create an
edgy, one-of-a-kind jacket
that will stand up to all sorts of wild and wacky weather.
Old leather jackets…
can be refashioned into
new handbags
— a simple yet fantastic way to
breathe new life
into a neglected or otherwise ill-fitting coat — or
assorted types of jewelry
and
boots
; not to mention cozy, custom-made
winter-worthy gear
for your pup.
Leather gloves…
can be refashioned into a
earrings
, pendants, hair clips, a
grand (neck) fashion statement
, brooches,
dainty handheld purses
or a
halter top
, or used to add a decorative upgrade to shoes, bags and coat lapels.
Shoulder pads….
can be refashioned into a
sultry hat
or a
plush, hooded coat
, or used to reinforce the elbows of your favorite sweaters or
shirts
. If, however, you are a huge fan of the glitzy, Cristal Carrington throwback look, then here is a tutorial that will help you to create your
very own over-the-top, shoulder-strutting version
.
Men's silk neckties…
can be refashioned into
costume jewelry
; the
grand, sweeping, floral detail on an old dress
; a
tidy striped clutch
; a
glamorous halter top
;
custom gowns for formal affairs
;
belts
; and
hair bands
.
Oversized men's button-up shirts…
can be refashioned into
newborn infant pants
, an
apron
, a
fitted bustier top
, a
ruffle-covered dress
or a
summer-weight skirt
. There are myriad skirt designs and equally countless
DIY tutorials
floating around online, however, with just a bit more time and effort, this far more stylish
halter-neck dress
can be yours.
Computer parts…
can be refashioned into a vast array of fashion-forward possibilities, including a
keyboard bustier
; 
equally finger-clicking-good handbags
; a
colorfully wired, off-the-shoulder dress
; and
PC motherboard sandals
.
Pet food and kitty litter packaging…
can be refashioned into surprisingly durable creations! While
any paper-based material will suffice
, heavy-gauge dog food bags can be deftly transformed into a
fringe-covered frock
, much in the same way that empty kitty litter and cat chow packaging can become rather
sturdy shopping totes
.
Automobile scraps…
can be refashioned
into an
upcycled upholstery-seat belt frock
, a
floor mat trench coat
,
Mini Roadster-studded purses
,
royally inspired cufflinks
and
sunglass frames
.