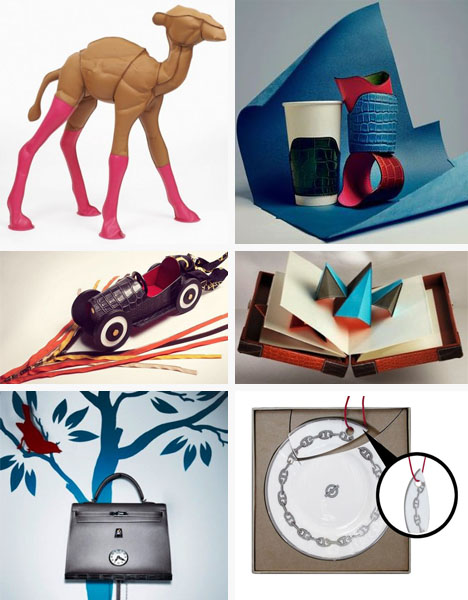 Flip through a celebrity gossip magazine and one of the most common shots you'll see is of up-and-coming ingénues, established movie stars and musical artists proudly sporting ostentatiously bejeweled, $1,000 sky-high heels and ginormous $8,000 leather handbags bling-a-linged with glitzy hardware.
While it might seem as though such cream-of-the-crop fashion accessories are fantasy pieces reserved for the elite entertainment industry few, luxury items from the likes of Burberry, Salvatore Ferragamo, Cartier, Louis Vuitton, Fendi, Chanel and Gucci are triumphing in spite of the consistent economic decline thanks to the continued enthusiasm of mere mortals with admittedly healthy bank accounts, as well as the inner city/hip-hop culture-fueled "urban market."
One of the most prominent labels in the mix is 175-year-old French brand Hermès, founded by talented leatherworker and visionary
Thierry Hermès
. He set the standard for perfectly handcrafted luggage and single-skin handbags (the latter of which are given names like Kelly and Birkin), as well as sportswear, richly patterned silk scarves and ties, footwear, gloves, jewelry, watches, fragrances, furniture/home wares and yes, even high-end office accessories. What has set this particular manufacturer of highly refined objects apart from its competitors is an ongoing commitment to fine craftsmanship and the creation of multigenerational investment pieces that are built to last. In the case of Hermès' highly revered bags (which are produced via hand by one single artisan in the span of 24 hours), any time they require reconditioning or repairs, the owner merely has to bring them back to the original point of purchase. The company will then place items in need of attention directly back into the very capable hands of its Paris-based artisans. Based on the high-fashion luxury maker's unwavering dedication to quality, it is not surprising that its goods are crafted using only the highest-grade raw materials such as silk and leather. The result of such discerning production aspirations, however, is that remnants ultimately end up on the workshop floor. Industry wide, these bits and pieces are normally discarded, but Hermès has in recent years decided to embrace the growing eco-vibe within our global culture by establishing "
Petit h
", a creative repurposing workshop solely dedicated to crafting unique lifestyle accessories and other playful objects out of such waste material. The brainchild of Thierry Hermès' great-great-great-granddaughter, 
Pascal Mussard
, this intriguing endeavor, which she regards as the label's "younger sibling," challenges an ever-changing roster of creative minds and craftspeople to uniquely upcycle Hermès materials that are in some way flawed or otherwise deemed unusable in the traditional "luxury goods" sense. In the past three years, this salvaging workshop has whipped up more than 2,200 handcrafted creations — the majority of which are truly one-of-a-kind and will not be reproduced — including a crocodile skin jigsaw puzzle, pocketbook charm and accordion-style necklace made out of a flawed silk scarf wrapped around rope. True to the brand's luxe appeal, the extremely limited-edition products crafted by Petit h artisans
have been offered for purchase in few-and-far-between international pop-up shops — specifically, in New York City and Tokyo — for mere three-week stints. Once they're gone, Mussard says, that's
that
!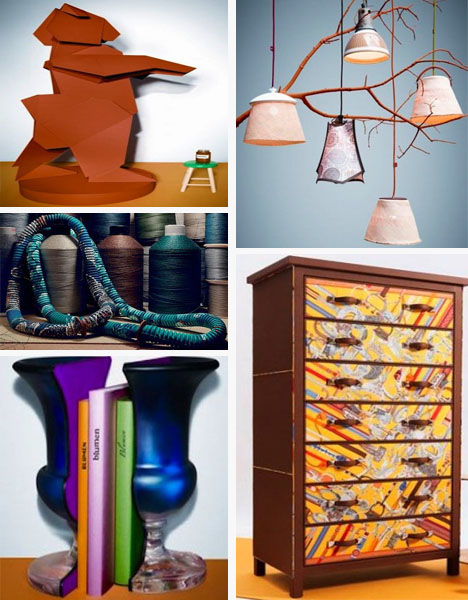 Here are just a few of the items that have emerged from Hermès' Petit h workshop:
A clock made out of a flawed Hermès Kelly Bag
Bubble-marred glass vases transformed into bookends
A crocodile skin scrap doorstop
A chest of drawers resurfaced with imperfect Hermès silk scarves
Production floor leather remnants transformed into a work briefcase
A tan, oversized stuffed camel sporting hot pink leather scrap legs
Leather strips converted into an open-weave necklace
A quality-standard-rejected leather purse handle attached to a glass flask