Background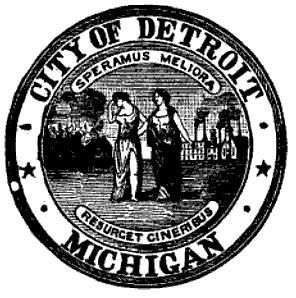 Detroit (pop. 701,475) has long facilitated its recycling through a large network of drop-off locations spaced about town. But, in an effort to save landfill space and increase recycling awareness, the city has created a
single-stream
curbside recycling pilot program. The program, currently in effect for approximately 30,000 households, offers Detroit residents convenient curbside recycling of a vast variety of household items. This program, available in an eastside pilot area and a westside pilot area, could someday soon be the standard for all Detroit residents.
Materials recycled
Paper
Including newspapers and inserts, magazines, catalogs, phone books, paperback books, paper bags, junk mail, envelopes, office paper, writing paper, file folders, flattened cardboard boxes, cereal boxes, shoe boxes, non-metallic wrapping paper, cardstock, postcards, frozen food boxes, milk and juice cartons, paper towel rolls and tissue boxes.
Plastics
Plastic containers numbered 1 through 7. All items must be rinsed/cleaned; plastic lids
not
accepted.
Metals
Including aluminum cans, tin cans, aluminum foil and aluminum pie plates. All items must be rinsed/cleaned; lids/tops accepted.
Glass
Glass food and beverage bottles and jars. All items must be rinsed/cleaned; lids/tops accepted.
Frequency
Curbside pick-up occurs on a weekly basis (a collection schedule and a collection map is available
online
).
Other programs
Detroit still facilitates its residential recycling largely through drop-off locations throughout town. The city's Department of Public Works operates six drop-off recycling locations that are available to Detroit residents for free with proper identification:
Davison Yard at 8221 W. Davison
Southfield Yard at 12255 Southfield Service Dr.
State Fair Yard at 19715 John R. St.
5840 Anthon St.
Kemeny Recreation Center at 2260 S. Fort St.
Heilmann Recreation Center at 19601 Crusade St.
These locations operate from April to October on Tuesdays through Saturdays from 10:30 a.m. to 6 p.m. and from November through March on Tuesdays through Saturdays from 8:30 a.m. to 4 p.m. Note: These locations do not accept glass for recycling. Recycle Here!, a program funded by the City of Detroit through the Greater Detroit Resource Recovery Authority, operates mobile recycling drop-off facilities on Saturdays throughout Detroit. For a current list of locations, see
here
. Glass recyclables, household batteries, light bulbs, Styrofoam and juice and milk cartons are accepted at these mobile locations. Plastic bags numbered 1, 2 and 4 (grocery, dry-cleaning and newspaper bags) are also accepted. The permanent Recycle Here! location at 1331 Holden Ave. is open Wednesdays from 10 a.m. to 6 p.m. and Saturdays from 9 a.m. to 3 p.m. Electronics can be dropped off at this location for proper recycling. Household hazardous waste can be dropped off at the HHW Receiving Facility at 2000 E. Ferry St. free of charge. Drop off is by appointment only, Monday through Friday from 8:30 a.m. to 3:30 p.m. This facility is open to Detroit residents only (identification required) and is free of charge. Items accepted include: household batteries, home office equipment, car equipment, cleansers, polishes, fertilizers, pesticides, weed killers, glues, caulk, mercury thermometers, paint thinners, solvents, varnishes, wood preservatives and fluorescent light bulbs.
More information
Visit the
Detroit Recycles website
for more recycling program info.