Of all the rooms inside the typical home, we spend the greatest amount of time in the bedroom. In fact, the average person requires between
seven and eight hours of basal sleep
in order to function optimally, but that's an elusive pipe dream for
60 million U.S. citizens annually
. Among the top reasons given for
chronic insomnia
, experts say that personal and work-related stress, poor diet, depression, stimulants and even an unconducive sleep environment can, in varying ways, contribute to the problem. Did your eyeballs zero in on that last sleep deprivation factor? What a great reason to rethink the way that you decorate your bedroom. Rather than being a tech-heavy, exercise, work and entertainment depot, your sleeping quarters should ideally be absent of all gadgets so you can instead create an
entirely serene yet welcoming vibe
. One way to accomplish that is to install a homemade headboard. Nine out of 10 enthusiastic planetary stewards even insist that the quality of your zzzs will increase by leaps and bounds when you take the time to craft one with recycled materials. Hmm, let's see. It's not so much of a stretch to suggest that creating a Zen-like headboard is good for your body (welcome to snoozeville), your wallet (no cash, check or credit necessary) and the planet (bring on the dumpster diving). Need a bit more convincing? Then do it for the rush of crafty-creative endorphins you will experience when you turn something drab into something positively eco-fab!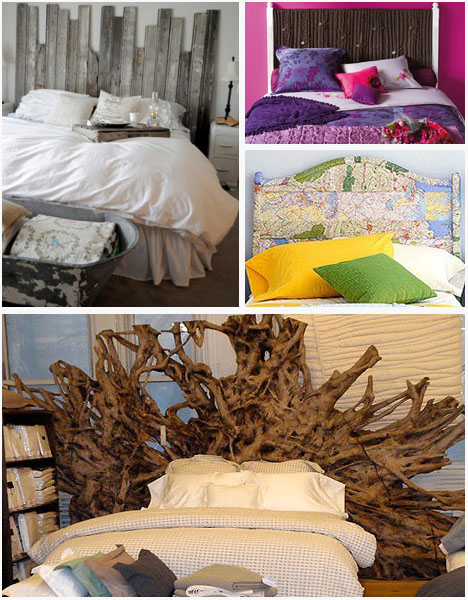 Transform a footboard into a bed-worthy frontrunner
with a quick touch of paint. Cover any unsightly imperfections on your old headboard with a
hand-knitted woolen cozy
.
Granny squares
of the world, unite!
String zigzag lengths of colorful rope inside a bare wooden frame
. Make a
record album headboard
to showcase the soundtrack that best inspires your life. An old mattress frame can be given a dazzling headboard makeover just by enhancing it with
paint and fabric flower rosettes
. Mismatched tiles — whether of the
clay
,
glass
or
pressed tin
variety — can really shake up the look of a once uninspired headboard. A
cozy blanket in a dynamic design
can become the focal point of a DIY headboard in minutes flat. Turn an
old curtain
into a pseudo headboard. Scrapbook paper can become the backdrop for a
beautifully decorative albeit faux headboard
.
Laminate samples
are a 100% fun, 100% free option.
Window shutters
are a perennial favorite, but for an even more dramatic look, create a
crown-molding framework
! A
yardstick-trimmed chalkboard
can become a scholarly headboard for lifetime learners.
Salvaged wood
such as
old fence boards
can take a bed from
snoozeville
to
heck yeah
!
Pave an old plank of wood with polished river rocks
.
Antique glass windows accented with a diverse array of patterned fabric or paper panels
will really wake up your bedroom décor. Fill a large collection of
picture frames with décor-enhancing fabric swatches or wallpaper
.
Wooden baseball bats
and
hockey sticks
offer a sporty reminder of favorite pastimes. Bibliophiles might think it's sacrilegious to strip texts of their hard covers, but the
final DIY headboard
is a well worth a thousand words. Since an
old door
works quite well as a headboard backdrop (
French doors
and
bi-fold doors
, too), it stands to reason that a
salvaged garage door
should also fit the bill.
Burlap coffee bean sacks
can expertly swath an old headboard in textural, eco-style. Whichever type of recreational board you favor —
skateboard
or
surfboard
— they can be easily
upcycled into an unforgettable headboard
that will live on long after your hardcore sporting days are over.
Salvaged fireplace mantels
(here is a
simple tutorial
) and other types of
architectural elements
such as
church altars
are ripe for headboard repurposing. Make a chevron-patterned headboard with
recycled lathe
. The next time you stumble upon a vintage store sign or other
large-scale signage
, remember that it will offer a dynamic backdrop to an otherwise simple bed.
Gnarled tree roots
make a dramatic headboard statement, as does a
solid slab
of straight-from-the-source hardwood.