Far too often, we see confusing and misleading (though perhaps hopeful) recycling claims on packaging. This leads to either false contentment with current recycling systems or cynicism on the part of the consumer. Unclear labeling, inaccurate recycling claims and variations in recycling programs make proper recycling a challenge. In response,
the How2Recycle Label
was created to provide consistent and transparent on-package recycling information to consumers. How2Recycle is a label and associated website that helps consumers understand how to recycle their packaging materials. How2Recycle is a project of GreenBlue's
Sustainable Packaging Coalition (SPC)
. The goal of How2Recycle is to provide clear, consistent recycling information to consumers, and it is used across all material types and shapes. Over the last three years, the SPC has consulted with various stakeholders to develop the label, including the U.S. Federal Trade Commission, the U.S. Environmental Protection Agency, local and state governments, companies, trade associations, recyclers and consumers. The label is adapted from a successful program developed in the U.K., the "
On-Pack Recycling Label
," which has improved consumer understanding. How2Recycle labels each component of a package using one of four categories: Widely Recycled, Check Locally (not recycled in all communities), Not Yet Recycled and Store Drop-off (recycled at retail locations). The Store Drop-off label is specifically for plastic bags and films accepted at retail locations. These categories are determined by national-level access to recycling data. Consumers are provided with resources on how to "check locally" at the
how2recycle.info
website, which is printed on each label. Some of the most frequent questions we receive regard the Resin Identification Codes (RICs), often referred to as the "recycling number on plastics." RICs are often misused as a way to communicate recyclability to consumers. Yet the RICs were
never intended as a consumer communication tool
. Consumers misinterpret their meaning, from indicating recycled content, to the popularity of the plastic. However, the RICs only indicate the type of plastic, and have no indication of the recyclability of an item. For example, PET (#1) bottles are accepted in the majority of communities, yet PET (#1) thermoformed containers, like clamshells, are not.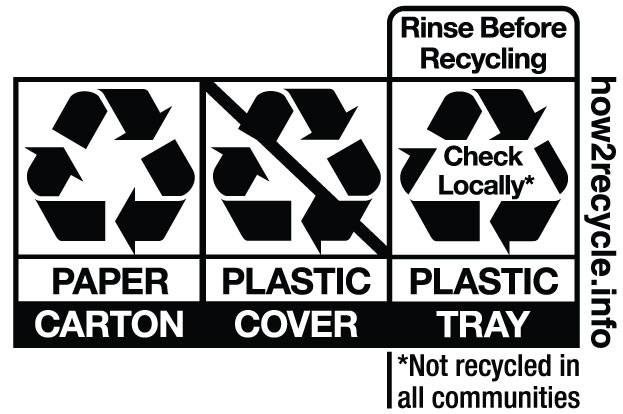 RICs will continue to appear on packages to satisfy state legal requirements and identify the material type. But, our goal is for the How2Recycle label to replace RICs as a consumer communication tool.
One of the biggest challenges to this project is the vast variability in municipal system collections. There are a number of factors that impact recycling. While certain items like plastic bottles and metal cans can be recycled in the majority of communities (meaning they are a part of the "Widely Recycled" category), other items, like plastic clamshells, can only be recycled in certain areas (the "Check Locally" category). No labeling system would make sense without encouraging consumers to understand their local system.
We believe that by encouraging consumers to "Check Locally" on packaging types such as plastic clamshells and gable-top cartons, How2Recycle will help drive both education and market development for other materials not currently in the "Widely Recycled" category. How2Recycle is best suited to convey actual recyclability, tell consumers how to recycle a package and encourage localized recycling education. We welcome your feedback through our
consumer survey
, and you can follow our progress at
how2recycle.info
and on our
Facebook page
.
Danielle Peacock is a Project Associate at GreenBlue's Sustainable Packaging Coalition. For additional information about the Sustainable Packaging Coalition, please visit sustainablepackaging.org.