Great idea: an individual, hot beverage-dispensing system that reduces the potential for consumer product waste by delivering a single cup of your favorite brew on demand. No more crowd-sized pots of coffee going down the drain or spent filters and foil pouches needlessly clogging landfills. What an environmental innovation. Or is it?
What are one-time-use coffee capsules made of?
It depends on the brand.
Natural fiber-based, oxygen-bleached Senseo pods
can add a nice little nutrient boost to your garden when you compost them, but they are in the green minority. For the most part, the majority of single-use coffee capsules present all sorts of eco-conundrums.
Keurig's plastic K-cups
, which look like individual coffee creamer containers with an inner paper filter and polyethylene-coated aluminum foil top, have so many raw materials at play that they are not biodegradable when thrown away as a complete unit. Also designed to be used just once, Tassimo's plastic T Discs topped with foil seals are no better. The good news is that
eco-inspired individuals continue to devise creative reuse options
, plus
TerraCycle has established a free collection brigade
so that such packaging can be diverted from the waste stream and instead "reinvented" as all sorts of post-consumer products. Nespresso's decidedly more glam metallic capsules are made with 1 gram of aluminum per container. The infinitely recyclable material is a seemingly good choice compared to previously mentioned options, but the reality is that upon being used, the miniature cups are rarely diverted from the landfill due to
extremely limited
global collection programs (although the company is in the process of ramping up its sustainability efforts).

How many one-time-use aluminum coffee capsules are disposed each year?
Of the
6 billion aluminum cups
that Nespresso claims are being used by hot beverage enthusiasts annually, it is estimated that more than 3,200 metric tons of the fully recyclable metal ends up in landfills. Barriers include a lack of widespread formal recycling programs as well as machinery that is susceptible to mechanical failure in the presence of small items (such as the diminutive capsules). Furthermore, consumers typically lack the desire to follow necessary pre-recycling protocols, such as thoroughly removing residual coffee grounds first, which can significantly compromise aluminum reclamation efforts.
How can one-time-use aluminum coffee capsules be repurposed?
1) Make a
trio of "forever" flowers
that will add a cheerful accent to your patio long after your landscape has surrendered its beauty to the cold autumn and winter months. 2) Deck your halls with extra eco-spirit courtesy of
handcrafted Christmas decorations
like
dangling Nespresso bells
. 3) Add sparkle to your finger with a
floral cocktail ring
. 4) Pull your stylish look together with coordinating
rosette earrings
and an
equally botanical brooch
, both of which look nothing like the original aluminum coffee packaging from which they were crafted. 5) Your neck deserves a little attention, too. Whether coffee capsules are transformed into
three-dimensional eco-beads
,
strung together on leather cord
or
punctuated with prehistoric stones
,
bits of shimmery glass
or simply just
wire wrapped
, they can take on a 
very unique appearance
. 6) Go the whole green yard by
trimming yourself a top
or a
zippered hand clutch
with flattened coffee capsules. 7) Australian fashion designer Rachel Rodwell is putting the finishing touches on her
sustainable textile and jewelry collection, Podex
, which utilizes empty Nespresso coffee pods. But, this is not the first time that
Nespresso-studded garments
have made their grand entrance!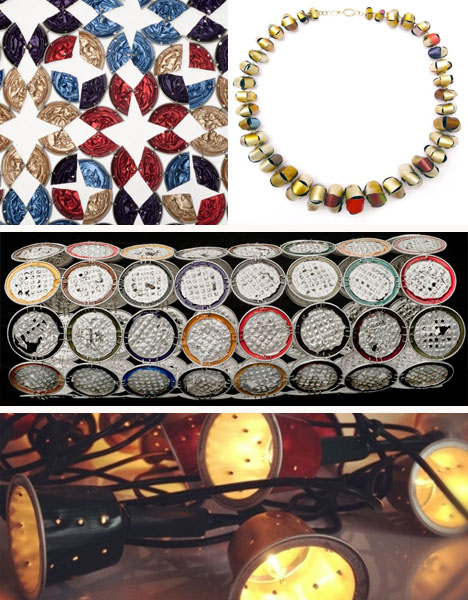 8) "Grand Crus Cup Parade," created by
Dottings
, a Vienna-based industrial design firm, is a collection of beverage receptacles that emulate the appearance and color of Nespresso pods. The basic thrust of this concept is to
reward consumers
who deposit their empty coffee capsules at designated recycling stations with eco-points that can be exchanged for Dottings' unique set. 9) Experiment by creating your own
original recycled coffee capsule art
. 10) Separate a room or add sparkle to a window by
hanging a flattened coffee pod curtain
. 11) Cultivate this year's garden varieties — literally, from the ground up — by planting your seeds in individual
repurposed coffee capsule pots
. 12) Bright, jewel-toned aluminum capsules can make a
string of holiday lights look far more festive
(with minimal modification), but if you are happy to plunge into deeper crafty waters, they can be transformed into even more
decorative floral light shades
. 13) Alex Aebi clearly exercises a great deal of artistic commitment by transforming bits and pieces of carefully snipped Nespresso pods into a
charming collection of colorful insects
. 14) Katharina Mischer and Thomas Traxler turned 700 crushed aluminum coffee capsules into a
fully operational battery array
! 15) Sometimes, "simple" ideas make the most sense, so go ahead and turn your empties into
happy-faced capsule people
!