Want to give an old chair an entirely new yet practical purpose?
Perhaps the basic design of your chair is appealing, but it's pretty shabby around the edges and probably not ideal to support the weight of an adult. How about
transforming it into a décor accent
courtesy of artfully arranged moss?
Attach coat hooks to the back of a wooden chair
for a clutter-reducing jacket storage solution. Turn two old chairs into an
elevated feeding station
for dogs! Three old chairs can become a
convenient hallway bench
or a
cozy seating option for your porch
.
Mount a chair to your wall
(whether
upside down
or
right side up
) and
voila
! The way in which you display household décor items has suddenly been kicked up several notches.
Have an old chair that requires a little nip and tuck?
If the chair in question is a swivel,
here is a quick and easy way
to recover it with new fabric. When the fabric options at your local craft store leave you uninspired, consider
reupholstering worn seating
with
vividly patterned oilcloth
,
vintage bedspread material
or
old burlap coffee sacks
. Old duds culled from the forgotten corners of a closet are also fair game. They can become unique upholstery options, whether they are used "as is,"
cut into strips
or applied in a chair-destined
fabric mosaic
. Whip out your knitting or crochet needles for a yarn-bombing experiment that will
render your old chair positively charming
. A chair with excellent structural integrity sometimes requires nothing more than a
fresh coat
of
taxicab yellow
or
pop art-inspired paint
. Jazz things up with a
Roy Lichtenstein-esque scene
or
bright packaging graphics
a la Andy Warhol.
Decoupage a wooden chair with eye-catching images
(don't forget
old comic books
) for a remarkably whimsical makeover. Create a lasting
broken china mosaic
on the back and seat of an old chair. But be careful — it may yield such a lovely piece of art that you will ultimately end up wanting to admire it from afar rather than actually sit on it. The seat of an otherwise sound chair can be replaced with
reclaimed wooden slats
or
hand-woven silk ties.
Perhaps your family feline has shredded your home office chair beyond recognition. No worries! Bicycle enthusiasts and those who want to work on their core muscles might appreciate this
motley recycled marriage of office chair base and bicycle seat
, but for a greater level of comfort, just place a
reclaimed car seat directly on top
.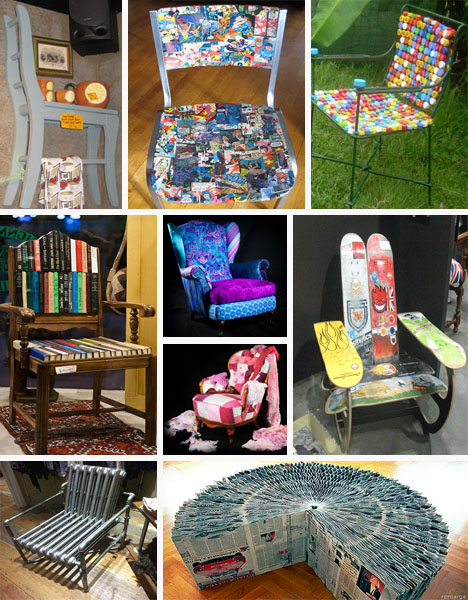 Want to make a new-to-you chair out of recycled materials?
Amy Hunting's wooden patchwork chair design
demonstrates just how gorgeous someone else's junk can be once it lands in the right creative hands.
Recycled sail material
is apparently plentiful and really durable. Turn a
vintage ladder
into a sturdy chair. There are probably thousands of ways to transform reclaimed wooden shipping palates into
rustic seating options
, but this
hanging hand-laced version is certainly a refreshing change of pace
. Broadcast your green thumb inclinations by turning a rusty old wheelbarrow into a
body-hugging garden chair
or
upright stool
. Chunks o' vintage automobiles can be transformed into cool new armchairs, like this
1968 4LRenault
, for example! A reclaimed
white oak bourbon barrel
makes a rather rustic but appealing stool. Beloved household pets aren't the only ones that can benefit from the
recycled vintage suitcase trend
. If you decide to create your own
human-friendly suitcase-turned-stool
, be sure to attach sturdy legs. Newspapers compressed in a
fanned-out, honeycomb-style bench
are apparently just as strong as wood and certainly a lot more affordable, not to mention planet friendly. Got an industrial vibe going on? This
recycled radiator chair
will no doubt feel at home. For someone who counts relaxation among their top goals, this cheeky
beer can-crafted recliner
will facilitate amusing conversations and (no doubt) the DIY battle call of an entirely new cross section of your friends. Do your part to combat the growing e-waste problem by crafting your very own
recycled computer keyboard chair
.
Tattered skateboards
can easily take on new life as long-lasting chairs with minimal effort. Yet another excellent application for dinosaur audio tech: the ever-appealing
recycled cassette tape chair
! No one really enjoys ironing in their spare time, but we all giving sitting the thumbs up, so transform that dust-collecting board into a
domestic yet thoroughly ironic salute
to the chore that we all love to hate. Unless you're a highly trained casino dealer, it is unlikely that you have access to all of the
retired playing cards
that are discarded each year. Imagine if you did, though.
This chair would be a breeze to make
. Bibliophiles may find it challenging to part with dusty old tomes, but
crafting a recliner with hundreds of paperbacks
(on
wheels, even
!) or the
spines of various hardbacks
is brainy, indeed.