In early 1990, Nike began thinking about ways to lessen its impact on the environment and reduce the amount of shoes headed for landfills.
Nike's Reuse-A-Shoe program
was born. The program collects old, worn-out athletic shoes for recycling and transforms them into Nike Grind, a material used in creating athletic and playground surfaces as well as select Nike products.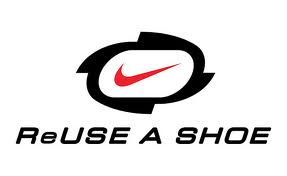 The program has collected 28 million shoes for recycling since 1990. And, in 2008, Nike placed Reuse-A-Shoe bins in all of its U.S. retail stores — more than 150 locations. If you have a pair of athletic shoes that have reached the end of their useful life, consider dropping them off at one of Nike's Reuse-A-Shoe drop-off locations. Visit the program's
drop-off location page
 to find one near you. Nike continues to add new sites, so check back often for new shoe recycling locations. In the U.S., collected shoes head to Memphis, TN. At the recycling facility, these shoes are combined with Nike's manufacturing waste to become Nike Grind material. The Memphis center cuts each shoe into three slices: rubber outsole, foam midsole and fiber upper. Each slice is fed through grinders and purified. In the end, three high-quality materials are ready to be reused:
Nike Grind Rubber, made from the shoe's outsole, is used in track surfaces, interlocking gym flooring tiles, playground surfacing and even new Nike products, such as the outsoles of the Nike Pegasus or the Jordan XX3. It is also used in trim items like buttons and zipper pulls.
Nike Grind Foam, made from the shoe's midsole, is used as a cushion for outdoor basketball and tennis courts, as well as futsal fields.
Nike Grind Fiber, made from the shoe's fabric upper, is used in the creation of cushioning pads for facilities like indoor synthetic courts and wood courts.
Nike is constantly looking for ways to decrease its environmental footprint, so a few years ago, the company branched out from sports surfaces and started using pre-consumer Nike Grind, scrap material from its manufacturing facilities, in new Nike products, like zipper pulls, buttons and promotional items.
Nike Trash Talk
uses many environmentally preferred materials, such as Nike Grind Rubber in its outsole. The list goes on, so after you have recycled your old shoes, maybe you should look at a "new" pair of Nikes. You can also feel great about its new lighter, stronger shoebox, which uses 23% less materials than the old box — saving the equivalent of 200,000 trees annually. And, by the way, it is made with 100% recycled cardboard, like all of Nike's shoeboxes since 1995.
For more information, visit the Reuse-a-Shoe website.