Cardboard is a ubiquitous packaging workhouse that can take a licking and keep on ticking. Open any cupboard in your house and you will be greeted with countless types of paperboard-wrapped items — plastic food wrap, cereal, salon-formulated anti-frizz hair treatments, Magic Markers, razor blades, vitamins — all of which are far safer thanks to their armor-like exterior. We may be instinctually driven to lighten our load by flinging such extraneous packaging into the closest garbage can, but of all the recyclable materials that consumers utilize, cardboard is readily accepted by municipal programs and among the easiest of materials to process. Hold on. Despite what a famous sneaker manufacturer would have us believe, it is never as simple as, "Just do(ing) it!" Recycling cardboard packaging sounds fine in theory, but more often than not, several eco-
unfriendly
thoughts tend to compete for attention in our collective minds:
"Recycling anything is a pain in the neck. Let someone else waste his or her time."
"Since cardboard is naturally biodegradable, what's the big deal if I just let it decompose in a landfill?"
"I hate breaking down boxes! Shouldn't that be the garbage man's job?"
"It probably takes a lot more energy to recycle cardboard in a special facility than it does to just let it break down with Mother Nature's help."
"There are too many rules and regulations. Last time I checked, the sanitation company said that shiny frozen food packaging and pizza boxes were off limits — what sense does that make?"
While cardboard that is coated, soaked or otherwise treated with oil, wax or plastic is actually not
accepted in the majority of all countrywide recycling programs due to contamination and the greater risk of equipment jams, if the paperboard is clean and untreated, it's fair game. But, when we are less than inspired to plunk our old tree-based packaging into our household bins, what other alternatives are there?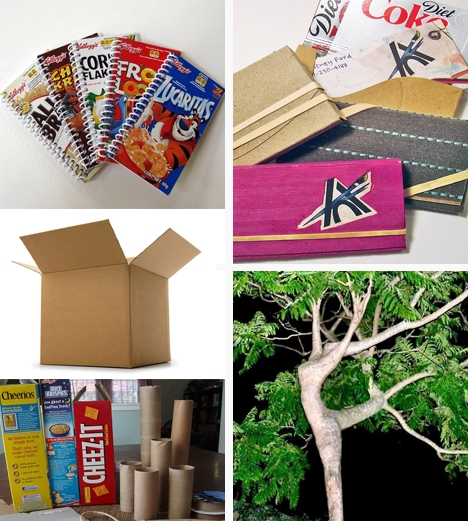 Instead of viewing the empty Pabst Blue Ribbon beer packaging that littered an otherwise barren urban concrete planter as an eyesore, Karen Abel decided to exercise her origami-like folding skills in order to create treasure out of trash. Fashioning paper-based blooms that emulated a floral species indigenous to her region, Abel was able to draw enough attention to her homegrown eco-renewal efforts that area residents ultimately seeded the very same public containers with an herb garden in the span of three short days.
Living and breathing in the very same humdrum surroundings makes Fluffy, well, kind of cranky and uninspired, so take a moment to shake things up. Turn a cereal box or the cardboard core of a paper towel roll into a secret oasis by stuffing part of it with recycled bedding material courtesy of an old sock or shredded T-shirt and watch your pal squeal with genuine eco-bliss. (Yes,
even kitties can get in on the act
!)
We have this misguided notion that, for gifts to seem worthy enough, they have to be ensconced in spangles and frills. The truth is that wrapping a surprise up in a unique, unexpected manner makes it all the more memorable, so the next time you gobble up the last bits of your favorite cardboard-shrouded snack, save the box, drop a gift inside and dress it up with tissue paper that accents the graphics on the outside of the package. Instant kitschy fun!
Prior to storing multiple strands of lights inside old cardboard boxes, first cut a few containers into uniform rectangles. By carefully wrapping each cardboard piece with a single string, your lights will remain snag-free — a simple but happily effective strategy.
Uniformity is highly appealing in the workforce, except with regard to those who pursue right-brain-inspired careers. Demonstrate your willingness to march to the beat of your own drum by fashioning
one-of-a-kind business cards
out of reclaimed cardboard packaging. Plus, one could be an eager interviewing beaver
by taking notes with a
recycled cereal box pad
!