Background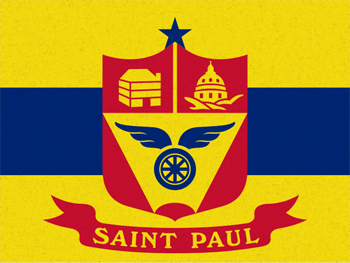 St. Paul's (pop. 290,770) curbside recycling program is not quite single stream, as bottles and cans and paper products need to be separated, but what it lacks in convenience it makes up for by accepting a diverse array of items at the curb. The city offers curbside recycling bins to residents of single-family dwellings for free at its
district council offices
. Wheel kits are also available free of charge to assist in transporting heavy loads to the curb. Cardboard boxes and paper bags, if in the 14- to 18-gallon range, can be used in lieu of the bins.
Materials recycled
Paper
Including phone books, envelopes with windows, notebook paper, spiral notebooks, folders, computer paper, flattened cardboard (no larger than 3×3 pieces), paperboard boxes, milk cartons and juice boxes (caps removed, cleaned and flattened) and takeout/delivery pizza boxes (clean and free of debris). Shredded paper is accepted in clearly marked, stapled paper bags.
Plastics
Plastic #1 bottles and plastic #2 containers accepted. All items must be clean; no caps or lids accepted. Items must be flattened.
Metals
Including aluminum cans and tin cans, aluminum foil and aluminum trays. Metal lids and labels are OK. All items must be clean.
Glass
Glass bottles and jars accepted. Lids/caps must be removed. All items must be clean.
Clothing/textiles
Clean, dry, reusable linens (towels, sheets, blankets, curtains, tablecloths) and clothes (as well as belts, coats, hats, boots, shoes and gloves) are accepted. Fabric scraps and rags are OK. Items must be placed in a sturdy, fastened plastic bag 30 gallons or smaller clearly marked 'CLOTHES AND LINENS.'
Frequency
Curbside pick-up occurs on a weekly basis. A collection map is available
online
. Carts must be placed curbside by 7 a.m. on collection day.
Other programs
St. Paulites can take their recycling to the
local drop-off center
(309 Como Ave.) managed by Eureka Recycling and hosted by Veolia Environmental Services. Hours are Monday through Friday, from 8 a.m. to 4:30 p.m. and Saturday, from 8 a.m. to noon. Ramsey County, where St. Paul is located, offers a number of free yard waste drop-off sites throughout the city. These sites are open to Ramsey County residents only. Leaves, grass clippings, garden waste and other non-woody plants are accepted at all sites. Branches, trees and shrubs are accepted only at the Frank & Sims and Midway locations. Centers are open March 26 through November 30, Mondays, Wednesdays and Fridays, from 11 a.m. to 7 p.m.; Saturdays, from 9 a.m. to 5 p.m.; and Sundays, from 11 a.m. to 5 p.m.


Battle Creek, 389 S. Winthrop St.
Frank & Sims, 1150 Sims Ave.
Midway, 1943 Pierce Butler Rte.
Summit Hill, 870 Pleasant Ave.
More information
Visit the
City of St. Paul Recycling website
for more recycling program info.