In the most populated Kenyan city — a region of great extremes where abject poverty is frequently overshadowed by tourist-drawing safari experiences — lush and densely tree-covered Nairobi (the largest city in east Africa) maintains a robust financial and cosmopolitan air despite harboring a staggeringly dirty secret.
Located just 2.5 miles away from the city center, the
Dandora Dumpsite
has for the last 30 years been the final resting place for the garbage of Nairobi's millions of residents despite it reaching maximum capacity in 2001. This is certainly unusual given the fact that landfills are typically subject to closure after 10 to 15 years, but this particular 30-acre waste zone, referred to by the locals as the "dumpsite of death," has earned its bad reputation due to its restriction-free status, making everything from
industrial, agricultural and domestic to red-bag medical waste
fair game. Prior to opening its doors for business, the land beneath Dandora Dumpsite (a former rock quarry) was never prepped with any type of protective
liner system
, so after more than three decades of haphazard disposal, a number of significant environmental and health consequences have resulted from the
2,000+ metric tons of daily waste
that the site receives. The
most prominent concerns
include leachate-tainted groundwater, Nairobi River pollution, toxic air emissions (every year, hundreds of children die from exposure to incineration fumes, dioxins and excessive methane exposure) and heavy metal soil contamination. As a result, there has been a notable increase in health ailments (particularly of the respiratory system, abdomen, skin and eyes) among the local population. Slightly more troubling, Dandora has long been a
haven for members of organized crime
who require dump trucks to pay them a fee prior to entry. These cartel members also strategize their game plans amid the rubble and are even rumored to bury their murder victims there. Here's where things get even stickier. Despite the blatant threat to their health, approximately
6,000 garbage collectors
regard Dandora as their sole livelihood, plucking anything of value from the mountains of trash without donning protective gear — things like electronics, plastic, glass, metal and rubber, as well as more eyebrow-raising items such as discarded food and meat bones. The reward for their 5-a.m.-to-sundown workday? Up to $2.50 U.S.
Generations of school children have even skipped out on classes
in favor of descending upon Kenya Airways' waste trucks due to the partially eaten yet still apparently highly desirable treats that are consistently cast aside by airline passengers.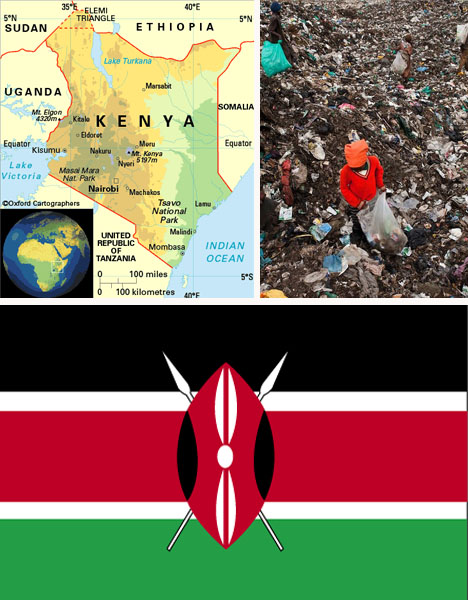 With the dumpsite perimeters stretching closer to city outskirts and yes, even homes, Dandora's days have theoretically been numbered. For many years now, the local government, concerned community members and the grassroots campaign
Stop Dumping Death On Us
have urged for its final closing, but a number of obstacles continue to exist:
Waste collectors are opposed to relocation because they fear the loss of their financial stability.
The Dandora Dumpsite is so thoroughly contaminated that experts say converting it into agricultural land is out of the question.
Nairobi's trash collection system is currently privatized.
15 years would have to pass before the dumpsite could be transformed into a residential zone. In the meantime, it has to be entirely fenced in to prevent public access — a pricey endeavor.
Even if the municipality found a suitable new landfill site, trash would have to be relocated there — labor intensive and costly — plus, the new area would have to be equipped with multiple membranes and a comprehensive methane-channeling pipe system.
Overall, lack of financial resources and a viable plan of implementation continue to stall progress.
On the horizon, however, Nairobi is eager to create a sanitary, new engineered landfill in Ruai, Kenya, that will also contain an on-site solid waste recycling facility and methane gas-to-electricity recovery plant, ultimately reducing the city's trash volume by more than 80%. The Jomo Kenyatta International Airport is understandably opposed to this proposal because the landfill would be extremely close to the flight paths, increasingly the likelihood that scavenging birds could inadvertently fly into planes. Regardless of its final location, there are clear benefits to setting up a safer waste disposal site for Nairobi residents. Experts project that up to 5,000 new jobs will be created in the process and, ideally, the population will be able to enjoy healthier living conditions regardless of their financial background. Various international proposals are currently being considered, and while Nairobi is hoping to have an alternate waste disposal site up and running within four years, given the vast scope of the project, that timeframe may be a bit too hopeful.