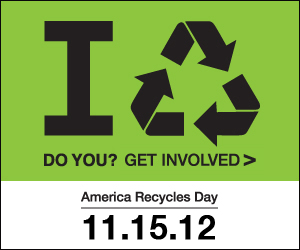 Keep America Beautiful (KAB), the nation's leading nonprofit that brings people together to build vibrant communities, announces a national contest to design a t-shirt that celebrates annual America Recycles Day. America Recycles Day is the only nationally recognized day and community-driven awareness event dedicated to promoting and celebrating recycling through education and collection events. America Recycles Day is scheduled for Nov 15. America Recycles Day is sponsored by Nestlé Waters North America, PepsiCo, Waste Management, America Chemistry Council, Anheuser-Busch, GLAD, Johnson & Johnson, Earth 911 and Owens-Illinois. For participation opportunities and more information, visit 
AmericaRecyclesDay.org
. To build momentum this year, KAB is working with 
Shirt.Woot.com
 to host a t-shirt design contest. The winning creative designs should inspire recycling action. Beginning today, design submissions and voting occur simultaneously through Thursday, Nov. 1. "Recycling is something on which we can all agree and is one of the easiest things we can do 365 days a year. Join us in celebrating this year by designing and wearing our special 2012 t-shirts on America Recycles Day," said Brenda Pulley, Keep America Beautiful senior vice president, recycling. To participate in this year's contest whether to vote, submit a design, or learn more, visit 
Shirt.Woot.com
. Public voting will determine the first winner on Thursday, Nov. 1. Two additional winners will be selected by Shirt.Woot and Keep America Beautiful on Nov. 2 and Nov. 3, respectively. All three t-shirts will be available for purchase on Shirt.Woot.com, and all three winners will receive a prize pack from the organization's America Recycles Day sponsors and a cash prize from Shirt.Woot.
About Keep America Beautiful
Keep America Beautiful is the nation's leading nonprofit that brings people together to build and sustain vibrant communities. With a network of more than 1,200 affiliate and participating organizations as well as state recycling organizations, Keep America Beautiful forms public-private partnerships and programs that engage individuals to take greater responsibility for improving their community's environment. To learn more, visit 
kab.org
.