Whether you fly, drive or pedal across America, you do not need to wear rose-colored glasses to see that the landscape is awe inspiring, colorful and incredibly diverse. Take in the very same scenery on foot and specific sights that were previously nothing more than a blur begin coming into focus. You start noticing things like destination signs, urban plant life, evidence of traffic accidents… oh, and roadside trash. The crumpled-up papers are a given; so, too, are the randomly orphaned hubcaps and sneakers. The majority of what you might find amid the open-air landfill of our countrywide highways, however, is particularly indicative of our culture's drive-through love affair with easy-come, easy-go packaging. It does not matter what state you live in. Just take a walk along the streets of your hometown, and against the backdrop of indigenous grass, wildflowers and trees, your eyes will zone in on aluminum and PET beverage containers flattened into crisp little "road kill" pancakes. Before long, once waxed yet now weather-beaten fast food cups will begin to surface along with wilted plastic burger clamshells, crinkle-necked straws, crumpled cigarette boxes and Mylar snack wrappers. Hardly what Mother Nature intended, these consumeristic eyesores do nothing to enhance our view, and as they slowly break down in gutters and traffic medians, packaging chemicals inevitably disperse into soil, water and air. Blatant waste like this rarely takes on a positive twist, but artist
Kim Alsbrooks
has devised a unique way to change the tide. Since 1994, she has been transforming post-consumer waste — including detergent boxes, snack cake packages, plastic candy trays and crushed beverage cartons — into miniature canvases for her turn-of-the-century-inspired yet blatantly ironic, counterculture portraits.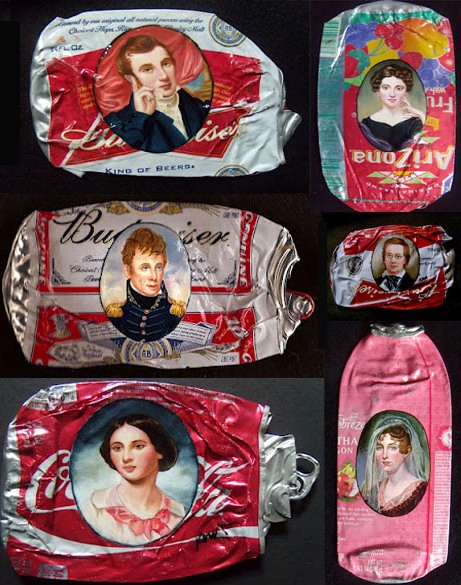 Her formal printmaking education, coupled with her on-the-job experience as a hand tinter for a portrait photographer, gave Alsbrooks precisely the right artistic training to properly emulate the painterly style of classic 17th- and 18th-century cameo-esque images (like those that were once painted directly on ivory) using transparent photo oil colors. The Alsbrooks difference? Unlike her artistic contemporaries, she gravitates toward the free backdrop of hand-harvested trash obtained directly from the city streets of Charleston, SC. There is a method to her madness. When Alsbrooks initially burst onto the Southern art scene, she was admittedly disheartened by the cookie-cutter vibe of the local gallery culture, which seemed to embrace a very classical and somewhat snooty notion of artistic relevance. Her ongoing "White Trash" series of elitist portraits, which depict regal-looking and presumably well-off individuals against such incongruous backdrops as gold-leafed plastic clamshell containers and flattened French fry packaging, enabled the artist to give them what they wanted — at least on the surface. Alsbrooks' unique choice of media was a way of approaching the art scene on her own terms while also expressing opposition "to capitalism, greed, consumerism and waste."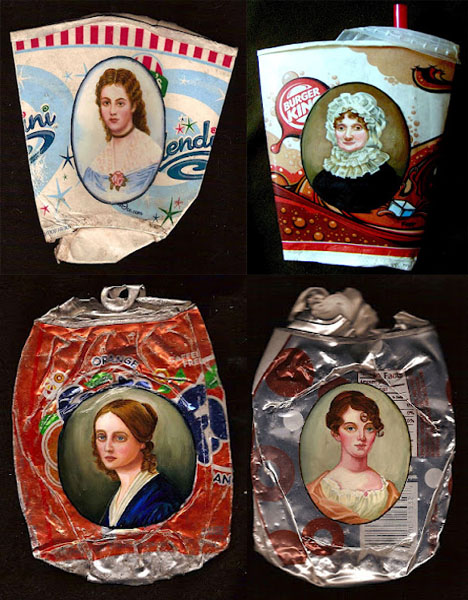 It's not as easy as it sounds to locate artistically ideal trash. In order to create esthetically pleasing oval portraits, she hunts down optimally flattened aluminum cans (as well as various other bits of one-time-use junk) with relatively smooth centers in order to accommodate her silk-screened, oil-painted and graphite-drawn images of
historically legitimate figures
. She then gessoes her final images onto select pieces of trash and ultimately seals the deal with a coat of varnish. This resourceful approach to art is nothing new for Alsbrooks, who counts such equally unique found objects like flooring, sheetrock and toilet paper holders among her many inspired canvases. Although Alsbrooks' landscape has since changed to Philadelphia, her recycled artistic trajectory is as strong as ever, as is her desire to tread a bit easier on the earth. Car-free, she cycles anywhere and everywhere, plus she is an enthusiastic community gardener, composter and all-around minimal energy consumer. Initially, she intended to sell her "White Trash" pieces directly out of a garbage can for $5 a pop, but, not surprisingly, public interest exceeded her commercial expectations. Isn't it funny how turning the very notion of art on its head often triggers resistors to change their tune?