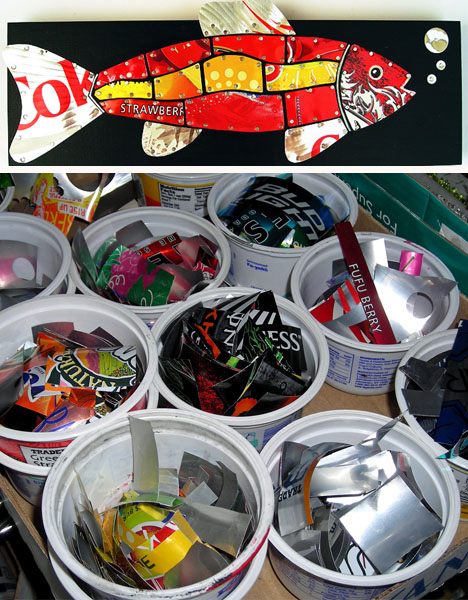 You have undoubtedly seen mosaics before (perhaps even recycled metal versions crafted out of aluminum beverage cans) but have you seen
Jill Helms
' take on the eye-catching eco-art form? Well, how about stepping into her studio and looking around for a while?
As you can see
, several recognizable brands can be found amid her final bold, rainbow-tinted creations — iconic beverage cans such as Bud Light, Coke, Sprite, Welch's Grape Soda, Rock Star Energy Drink and even Hansen's Natural Soda. While the Wisconsin-born artist, who obtained her formal training at Illinois State University, has not personally knocked back a soft drink in decades, she has developed a keen eye for rescuing randomly discarded roadside and parking lot-strewn empties. Helms has a particular fondness for the bold graphic designs found on energy drinks, sometimes even purchasing a few beverages that are packaged inside colorfully dynamic containers. Her one rule of thumb is to stick with American-made aluminum cans rather than those produced abroad, since stateside material is far thinner, making it easier to snip with her household scissors.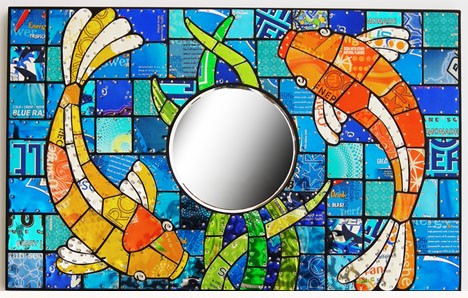 In true eco-art style, the unabashed conservationist, who says that she "finds double satisfaction in repurposing discarded items to create beautiful things," first washes and dries her raw material, cuts each can into randomly sized bits and then color coordinates the pieces inside an array of reclaimed coffee shop cups and Greek yogurt tubs.
Helms then goes about the task of conceiving/transferring her basic mosaic design onto a painted wood substrate, deciding on a visually arresting color scheme, hand smoothing the cut perimeter of each metal mosaic "puzzle piece" and then hammering them one at a time with tiny metal nails onto their final platform. Married to an environmental consultant, Helms has long navigated a green lifestyle well before it was regarded as trendy and has been one of those diehards who consistently cleans up the casually discarded waste of fellow hikers when she is out and about on the path. The way that she conducts herself inside her art studio is no different. The Mesa, AZ, resident integrates such repurposed treasures into her
mixed-media collages
as family photos, flower petals, vintage ephemera, jewelry, ribbons and the occasional fishing lure. She also makes a concerted effort to transform leftover aluminum mosaic scraps into bead-enhanced earrings or, when her creative options are tapped, she totes the spent material right back to her local
metal recycling center
.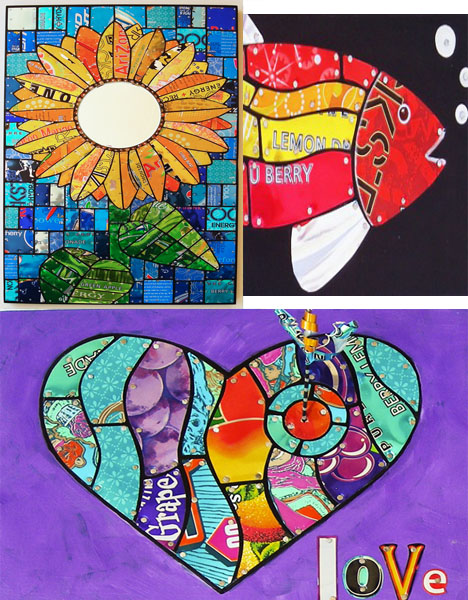 It is particularly interesting to note that Helms, who grew up with an autistic, severely disabled sibling, has ensconced herself in the special education world — a profession that she has professed a deep passion for. The inspiration that she draws from this often misunderstood population seems to be reflected in her creative patchwork creations, which give new purpose to that which society normally takes for granted. Once a pile of humble cans, now a cohesive work of art. Helms' "ugly duckling into swan" credo most definitely takes a little bit of the heat off of Mother Nature while also reminding the casual onlooker that donning a different pair of glasses enables all of us to see the beauty within.