Now that baseball season is over, you might be pining for winter-long reminders of America's pastime. What could be cooler than owning a piece of baseball history that has been upcycled to make a fashion statement? We found a few companies that produce one-of-a-kind items from recycled materials straight from the ball field. The first unique find is 
Fielder's Choice
, a collection of vintage leather wallets made from recycled baseball gloves from brands such as Wilson and Rawlings. The wallets are created to "embrace forgotten pastimes and artifacts," and we love how they are broken in, giving them a sense of history. Each still has original glove imprints, and some even feature the original user's autograph.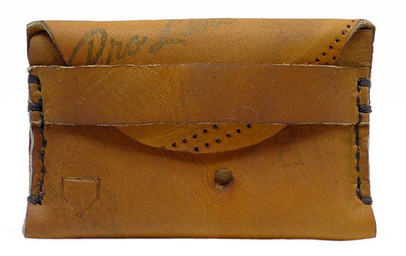 Jon Brong, owner of Fielder's Choice, says that he has had an overwhelming amount of positive feedback, yielding high demand for his wallets. "The demand is making it so hard to keep up with the resources," Brong admits. "But I am still finding good-quality American leather in vintage gloves, and as I become more knowledgeable in some of these older American glove brands, it has become a little easier." Though Brong is a huge baseball fan, he says it is still tough for to find information on a lot of the older brands and the models produced. Still, he works hard to produce monthly releases. Our next find is Coach's new Heritage Baseball Collection. Known for its handbags, Coach's history actually began with its handcrafted leather wallets and billfolds, and the brand is going back to its roots with this collection. Made from vintage baseball gloves, the limited-edition wallets and billfolds for men feature soft and supple leather with a worn patina look. According to
Inhabitat
, Coach scoured eBay for one year to find 70-year-old mitts to create the series, which features 200
one-of-a-kind, stamped-for-authenticity wallets
. The recycled baseball glove wallets are currently available in select Coach stores. In celebration of its 100-year anniversary, L.L. Bean created a
special tote
that also gave a nod to Fenway Park celebrating 100 years. The limited-edition Fenway Boat and Totes were sourced from the rain tarp that protected Fenway Park through rain delays during the 2010 and 2011 seasons. What a way to spare the landfill and own a piece of Red Sox history at the same time! Only 2,012 bags were manufactured, and each is individually numbered. The limited-edition Fenway Boat and Totes are currently sold out online, but a few can still be found in select stores (at press time). For baseball fans, owning a piece of sports history is definitely cool, and we love that Fielder's Choice, Coach and L.L. Bean are leading the way by using recycled materials. Not only are these items unique, but they also help spare the environment. It is pretty clear that that the wallets and tote bags are popular items, and we hope other companies are taking notes and gearing up for next season.