Background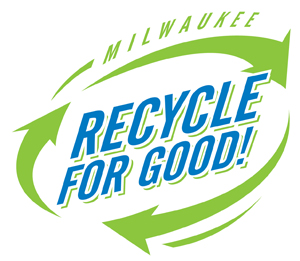 Milwaukee's (pop. 598,116) recycling goal is as simple as its Public Works motto: "Let's Make Milwaukee Clean and Green." And residents are catching on, too, with Milwaukee's single-sort curbside recycling program. Currently, single-family residents and small apartment buildings (up to four units) are eligible for curbside pick-up. The city uses 95-gallon carts and 18-gallon bins for its curbside program, with about 85% of the city utilizing the carts.
Materials recycled
Paper
Including cardboard, paperboard, paper cartons, shredded paper (in a tied-off clear plastic bag or stapled paper bag), mixed paper, junk mail, newspapers, magazines, catalogs and phone books.
Plastics
Including plastics numbered 1, 2, 4 and 5 (rinsed). This includes "bulky" #2 plastics such as 5-gallon buckets.
Metals
Including aluminum cans, containers, foil and pans; metal pots and pans; steel cans and empty aerosol cans.
Glass
Glass bottles and containers accepted (rinsed; labels OK).
Frequency
Curbside pick-up varies by season in Milwaukee. Regular pick-up occurs from April to November, and then, during the winter months, pick-up is less frequent due to weather conditions. Residents with 95-gallon carts are scheduled every three weeks from April to November. Residents with an 18-gallon bin are scheduled weekly. A collection schedule is available
online
.
Other programs
Two Milwaukee "Self-Help Centers" (6660 N. Industrial Rd. and 3879 W. Lincoln Ave.) offer city residents the ability to drop off a great number of recyclables, including motor oil and oil filters, used cooking oil, antifreeze, automotive batteries,
asphalt roofing shingles
,
electronics
, appliances, scrap metal, tires (up to five at a time), corrugated cardboard,
used athletic shoes
and concrete. In addition, all curbside recyclable items, compostables, garbage and furniture may also be dropped off at these locations. A $15 surcharge may be applied to construction and demolition items (shingles, concrete, etc.). The centers are open Tuesday through Saturday from 7 a.m. to 3 p.m. during the winter months. Milwaukee hosts a successful shoe-recycling program, diverting more than 77,000 pairs through 2011. Participating drop-off locations can be found
here
. The E-Cycle Wisconsin program offers comprehensive statewide e-waste guidelines. Residents can drop off electronics at numerous locations throughout Milwaukee and beyond, and know that their old devices will be properly recycled. More information is available
here
.
More information
Visit the
City of Milwaukee Environmental Services website
for more recycling program info.