Had a tough day at work? No worries, relaxation is just a few brief moments away. There is no possible way to hang onto your stress when you plunk right in the middle of the ginormous pile of pillows scattered all… over… your… couch. Um, where are all your pillows? Good grief. How do you expect to relax without the most crucial, squishy,
ahh
-facilitating tool? Okay. Here's your mission. Take a peek at this
basic throw pillow tutorial
, and while you get the hang of things, I'm going to show our 1-800-RECYCLING friends the exciting ways in which they can nip, tuck, spruce up and otherwise entirely makeover their old pillows with items that might have otherwise been given a premature burial in the landfill.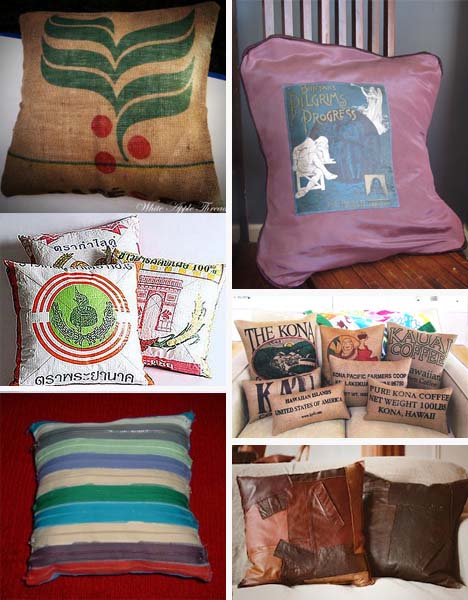 Recycled pillow inspiration
Hate sewing? As long as you know how to tie a tidy little knot, this
repurposed silk scarf pillow cover
will probably make you thrilled to bits. Got a collection of cool indie tote bags? Let them see the light just by
slipping old throw pillows inside of them
. (Purchase several packages of grommets in order to
make this simple DIY project come together
.) You know all those annoying care tags sewn into the inside of your favorite shirts? The ones that always irritate your skin in all the wrong places? Go ahead and rip them off, but instead of throwing them in your garbage can, stockpile them so you can make
this super-fantastic pillow cover
. Naturally,
the same thing applies to all those clothing logos
, too!
Thrift store lace curtains
can be scored for a song and then, with a bit of strategic sewing, transformed into a feminine outer shell for your favorite comfy couch accessories. Far less frilly but equally as affordable,
thrift store cloth napkins
or
tablecloths
will also offer excellent pillow makeover potential. Add an extra layer of snuggly goodness to pillows by wrapping them in
vintage army blankets
. Chip-chip-cheerio, good chap. Time to create a dapper accent for your chair or couch courtesy of
recycled men's suit material
,
tuxedo shirts
or
good old silk neckties
. If a relaxed look is more your style, those
old denim jeans will make durable pillow covers
lickety-split (this
basic tutorial
lays it all out), as will your very favorite
well-worn T-shirts
,
fleece pullovers
and
snuggly warm sweaters
. Are you deeply committed to the fine art of wielding needle and thread? Then patchwork pillow covers made out of recycled
denim
,
T-shirts
,
plaid flannel tops
,
sweaters
and (surprise, surprise)
silk neckties
won't be intimidating at all! Lovers of a bohemian flair will likely appreciate the international edge that
recycled rice sacks
can give to one's décor as well as
vintage French canvas bags
. Culinary enthusiasts: You can cook up a
repurposed vintage apron pillow
or make a cool new cover out of
old tea towels
,
dish towels
,
placemats
or even pot holders if the fabric is esthetically pleasing enough. Turn an
old leather jacket
or
random scraps
into a new pillow cover. Even
novelty-patterned silk boxer shorts
aren't exempt from all the recycled pillow cover fun. When fashioned into throw pillows,
recycled cotton canvas moneybags
also lend panache to one's décor, not to mention
animal grain sacks
and
burlap coffee bags
. Since chairs look spectacular
when they are reupholstered with old stuffed animals
, why can't pillows be subjected to the same DIY technique? For a waterproof option for your summer patio entertainment needs,
whip out the duct tape
and get busy! Sophie DiPinto is now fulfilling the wildest dreams of bibliophiles from coast to coast by furnishing them with a
literal and figurative way to snuggle up with their favorite title
. Just one word:
zippers
!