Background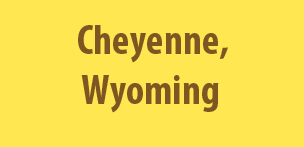 Cheyenne (pop. 61,537) is not only Wyoming's capital city, but also its largest. The county seat of Laramie County is home to a metropolitan area of nearly 100,000 people. As such, Cheyenne acts as a role model for other Wyoming cities and towns, especially when it comes to recycling programs. In 2008, Cheyenne debuted curbside recycling to some 1,500 residents in the Sun Valley neighborhood in southeast Cheyenne. Because of the program's success, citywide curbside recycling debuted in August 2010.
Materials recycled
Paper
Including newspapers, phone books, magazines, catalogs, brown paper bags, cardboard (flattened and cut to 2×2 size or smaller), cereal boxes, milk and juice cartons, junk mail and various office materials.
Plastics
Including plastics numbered 1 through 7 (rinsed). No plastic bags accepted.
Metals
Including aluminum cans, aluminum foil, aluminum pie tins and trays and steel cans.
Glass
Glass is
not accepted
at the curb.
Frequency
Curbside recycling pick-up occurs on a biweekly basis, same day as trash. Carts must be curbside by 6:30 a.m. on day of pick-up, at least 6 inches from the curb and 2 feet from other obstructions with cart arrows pointing toward the street. A collection map and schedule are available
online
.
Other programs
Household hazardous waste may be dropped off by appointment only on Saturdays from March through mid-November at the Felix Pino Transfer Station at 220 N. College Dr. Accepted materials include pesticides, herbicides, toxins, poisons, used motor oil and antifreeze, automotive batteries, household batteries, fuels, solvents, flammables, cleaners, corrosive materials and oil-based paints. Drop-off is free of charge for Cheyenne residents, but a fee may be assessed for businesses interested in HHW disposal. E-waste, including computers, monitors, keyboards, TVs and cell phones, can be dropped off at the Felix Pino Transfer Station for free. At-home pick-up appointments incur a fee. Residents looking to find out more information can call the Solid Waste Division at 307.637.6440.
More information
Visit the
City of Cheyenne Recycling website
for more recycling program info.