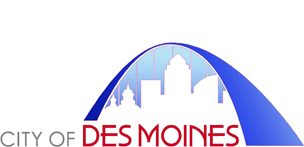 Background
As Iowa's capital, largest city and chief commerce hub, Des Moines (pop. 206,688) has put Iowa on map of growing U.S. cities with an eye toward the future. The city's attitude concerning recycling is progressing as well. Des Moines uses a single-stream recycling system with 96-gallon roll carts with great success — nearly 70% of city households recycled in mid-2012, averaging around 20 pounds per household per month, according to
Metro Waste Authority
.
Materials recycled
Paper
Including newspapers (with inserts), phone books, magazines, catalogs, mixed paper, cardboard (flattened to fit into cart), paper food and drink cartons (excluding cylindrical containers) and shredded paper sealed in a paper bag or box.
Plastics
Including plastic twist-top bottles and yogurt and margarine/butter tubs. Plastic bags and lids are not accepted.
Metals
Including aluminum cans and steel cans, wire clothing hangers and empty aerosol cans.
Glass
All glass containers (any color; no lids accepted)
Frequency
Curbside recycling pick-up occurs on a biweekly basis, same day as trash. Carts must be curbside by 6:30 a.m. on day of pick-up, but no early than 5 p.m. the day prior. Carts must be placed within 18 inches of the curb and at least 3 feet from obstructions, with the metal bar facing away from the property. A collection schedule is available
online
.
Other programs
Des Moines hosts a voluntary yard waste collection program at the curb as well. For complete information, visit the
Compost It! Guidelines page
. E-waste is collected for recycling at Metro Waste Authority's Regional Collection Center for Household Hazardous Waste, located at 1105 Prairie Dr. SW in nearby Bondurant, IA. A 50¢ per pound fee is assessed. Appliances, including refrigerators, air conditioners, clothes dryers, clothes washers, dehumidifiers, dishwashers, freezers, furnaces, kitchen ranges, microwaves, ovens, stoves and water heaters, can be picked up by scheduling an appointment with the Public Works call center (515-283-4950). A $35 fee is assessed for pick-up (seven $5 "large item" stickers must be obtained and placed on the appliance). Des Moines residents can also take appliances to the Metro Park East Landfill at 12181 NE 12th Ave. in Mitchellville, IA, and pay $10 per item. For full details, see the
Appliance Pickup Guidelines
.
More information
Visit the
City of Des Moines Public Works website
for more recycling program info.