Background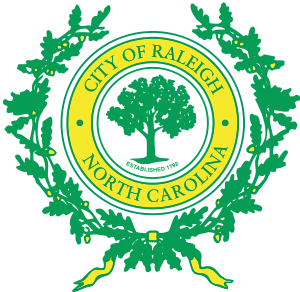 Raleigh, NC (pop. 423,179), the "City of Oaks," has made drastic improvements to its curbside recycling program in recent years in hopes of improving efficiency and resident participation. The city began rolling out biweekly pick-up using 95-gallon recycling carts in 2010, and the program has continued to spread across the city. Since the program's inception in 1989, Raleigh has recycled 300,000 tons of material.
Materials recycled
Paper
Including newspapers and inserts, assorted white and light-colored paper, cardboard, phone books, junk mail (no promotional stickers), shredded paper (enclosed and marked in a stapled paper bag), magazines, catalogs, paperboard (no waxed frozen food boxes), chipboard, SBS board, paper tubing, spiral paper cans (metal ends are OK), gable-top cartons (flattened; no caps) and corrugated cardboard (flattened and reduced to 3×3 sections; pizza boxes are not accepted).
Plastics
Including plastics numbered 1 through 5 and number 7 (rinsed). Does not include: plastic clamshell packaging, plastic cups, #7 PLA cups/containers, lids, caps, pumps or plastic bags or wrapping. Any items that once contained hazardous materials are not accepted (even if rinsed). "Soft" plastic beverage rings are accepted as well.
Metals
Including aluminum cans, containers, foil and pans and other metal food and drink containers.
Glass
Glass bottles and food containers accepted (rinsed; labels OK).
Frequency
Curbside pick-up varies in Raleigh. Those residents utilizing new 95-gallon bins have biweekly pick-up, same day as trash. Residents still using the older 18-gallon bins have weekly pick-up, same day as trash. A collection schedule is available
online
.
Other programs
In North Carolina, it is illegal to send appliances and other white goods to the landfill. Special pick-up must be arranged when disposing of these items. Some items may also be taken to county drop-off facilities. More information on appliance disposal in Raleigh can be found
here
. Raleigh hosts curbside cooking oil pick up from November to January each year. Residents can schedule a pick-up date during this timespan and put a minimum of 1 gallon of used oil in a sealed and labeled plastic container out at the curb on pick-up day. North Carolina law also prohibits electronics from entering the landfill. Therefore, Raleigh residents currently receiving curbside recycling pick-up can schedule electronics to be picked up at the curb on designated days twice a month. No more than four items can be picked up per appointment, and there is no fee for this service. Acceptable items include TVs, computer monitors, cords, processing units, computer speakers, scanners, various parts, keyboards, mice, fax machines and copiers. More information is available
online
. Raleigh has a number of recycling drop-off locations as well. E-waste items listed above can also be taken to these locations for recycling drop-off. More materials, such as common recyclables, hazardous waste items and various other household items can be dropped at selected facilities. Much more information on the drop-off program can be found on the
Wake County website
. Multi-Material Recycling Facilities are located at 9029 Deponie Dr. in Raleigh and 6130 Old Smithfield Rd. in nearby Apex, NC. These facilities are open Monday through Saturday from 8 a.m. to 4 p.m. for county residents and businesses.
More information
Visit the
City of Raleigh Recycling website
for more recycling program info.