Background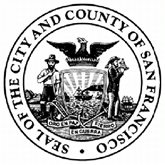 As mentioned previously on
1-800-RECYCLING
, San Francisco (pop. 825,863) is on a path toward zero waste by 2020.
Mandatory curbside recycling and composting programs
, enacted in 2009, have pushed the city's waste diversion rate to around 75% — sky high above the national average. A
plastic bag ban
and a backyard composting initiative have helped increase eco-awareness in what was already one of America's greenest cities.
Materials recycled
Paper
Including paper bags, non-waxed cardboard, cereal boxes, paperboard, computer and office paper, egg cartons, envelopes (plastic windows OK), junk mail, magazines, newspapers, packing paper, craft paper, phone books, sticky notes, shredded paper (sealed in a paper bag labeled "shredded paper"), and non-metallic wrapping paper.
Plastics
Including plastic bottles, plastic buckets (those with metal handles are OK), CD/DVD/CD-ROM jewel cases (no paper inserts), coffee cup lids, plastic containers and clamshells, plastic corks, plastic cups and plates, flower pots and trays, laundry detergent bottles, molded plastic packaging, plastic toys (no electronics, metal or batteries), plastic tubs and lids and plastic utensils. No Styrofoam products accepted. No "compostable" plastics accepted.
Metals
Including aluminum cans, steel cans, empty aerosol cans, empty paint cans, clean aluminum foil (balled up), aluminum trays and metal lids and caps. All items must be clean.
Glass
All glass bottles and jars (any color; lids accepted)
Frequency
Curbside recycling pick-up occurs on a weekly basis, same day as trash. Bins may be placed curbside no earlier than 6 p.m. the day prior to pick-up, and they must be returned to the property within 24 hours.
Other programs
Mandatory composting in San Francisco has dramatically reduced the amount of waste sent to area landfills. The green composting bin, set out the curb with the blue recycling bin and the black refuse bin, accepts a vast number of compostable items. Food scraps (including "anything that used to be alive"), food-soiled papers and filters, plants and trimmings, cotton balls, hair, fur and wood are all permitted items. For a full list and complete details, head
here
. San Francisco residents can utilize Recology's Household Hazardous Waste Facility, located at 501 Tunnel Ave, with proof of ID. The facility is open to the public Thursdays, Fridays and Saturdays from 8 a.m. to 4 p.m. There is a 15-gallon or 125-pound waste limit per day. Accepted items include paints, light bulbs, batteries, solvents, fuels, asbestos, oils and much more. A complete list of items is available on
Recology's website
. The San Francisco Transfer Station, also located at 501 Tunnel Ave., accepts various types of electronic waste, including TVs, monitors, computers, batteries and more. The facility is open Monday through Friday, from 7 a.m. to 4:30 p.m., and Saturday and Sunday, from 8 a.m. to 4:30 p.m. Check the
Transfer Station website
for full details. Christmas tree collection takes place during the first half of January each year. Trees larger than 6 feet must be cut in half, and trees must be placed curbside by 6 a.m. on collection day. Collected trees are chipped and repurposed as boiler fuel.
More information
Visit the
SF Environment Recycling and Composting website
for more recycling program info.