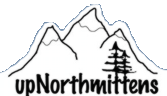 If you live in the part of the country that gets cold during the winter months, you know that you can never have enough warm outerwear — especially mittens and hats. Nothing dampens a fun frolic in the snow like soaking wet gloves. And, as the temperature gets colder, fashion becomes secondary to warmth. If it's 10 below zero and the trendy jacket isn't keeping the wind out, it is not going to be worn. Knowing that I live under these unbendable parameters during the wintry months, I was thrilled to discover a company that not only has warm mittens, but also warm, cute mittens.
Up North Mittens
is located in the Upper Peninsula of Michigan, where an average of 150 inches of snow  falls annually, so this company knows how to make mittens that stand up to the cold. There is so much to like about this company. The mittens are all handmade. There are made from recycled sweaters and with recycled buttons, so by buying a pair of mittens you are keeping materials out of the waste stream. And, because they are made from recycled materials, no two are alike. Here are some examples of some of Up North's adorable mittens:
Description from Up North Mittens:
 I love this pair of mittens, especially the button! The diamond pattern down the middle of this pair was actually pieced into the sleeve of this 100% wool sweater. I just think it is so unique. Black cuffs and palms complete this pair, along with black high quality fleece lining.
Price:
$39.99
Description from Up North Mittens:
 This mitten is so great. It has just a little bit of pattern in it, but you can hardly even see it. There is a very subtle red stripe across the mitten which is done in a navy tweed with flecks of subtle colors. The palm has a leather strip to help grip that snow shovel! It's just great.
Price:
$41.99
Description from Up North Mittens:
These little Wee Ones are made from a great sweater and lined with warm fleece. The mitten is lime green and cream striped with a very cool cuff. The cuff was the collar of the sweater so it actually has two layers, almost like a pocket.
Price:
$23.99
Up North Mittens retailers are located in Michigan, Illinois, Minnesota, Wisconsin and Alaska. You can also order online at upnorthmittens.com.