Clean lines. Functional use. Eliminate the unnecessary. These are just a few of the defining characteristics that make up
IKEA
's classic European style. And, it seems that the minimal waste component has extended to all areas of this home furnishing company with the start of its "Free Take Back" program in 2001. Tricky products like batteries, electrical equipment and, of course, compact fluorescent light bulbs are all pictured on the lineup of boxes that form the store's recycling collection point near the returns desk. Customers can toss out their old CFLs, IKEA-bought or not, by carefully placing them in the correctly labeled container (so as to not accidently release mercury from its contents). They are then handled by an approved recycler throughout the entire recycling process. Find out if CFL recycling is offered at the IKEA
store nearest you
.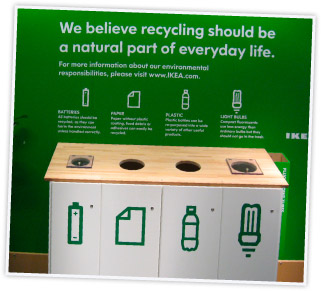 The "Free Take Back" program was one of the first of its kind, and illustrates the retailer's dedication to diminishing its environmental impact. From constructing stores that run off of renewable energy, to using recyclable packaging, IKEA is constantly searching for ways to conserve more energy and create less waste. For more on IKEA's efforts, read up on its
never-ending list of improvements
and commitment to sustaining
energy and resources
.
Want more IKEA? Find it on Facebook and follow IKEA USA on Twitter.