Background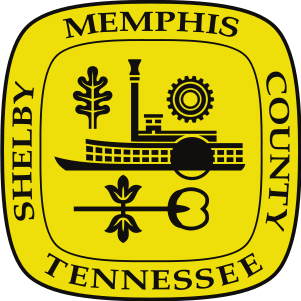 Curbside recycling in Memphis, TN (pop. 655,155), is provided to all single-family households and apartment buildings with eight or fewer units. The City of Memphis Solid Waste Management division provides each of these households with a tan 18-gallon recycling bin for weekly single-stream collection.
Materials recycled
Paper
Including computer paper, writing paper, stationary, junk mail, paper bags, magazines, catalogs, phone books, newspapers (must be clean and dry; inserts are OK), manila folders and sticky notes. These "loose" paper items must be placed in a paper bag and laid flat in the recycling bin. Corrugated cardboard (no pizza boxes) and paperboard (e.g.: cereal boxes, shoeboxes, beverage cartons and tissue boxes; no milk cartons) are accepted but must be cut into segments equal to or less than 24 inches wide and 48 inches tall. Cardboard can be placed inside the bin if it fits, or stacked neatly next to the bin or underneath it.
Plastics
All plastic #1 and #2 bottles and food containers are accepted (no plastic caps). Rinsing is recommended. No plastic bags, plastic wrap or plastic toys or buckets accepted.
Metals
Including aluminum cans, steel cans and empty aerosol cans.
Glass
Including all glass bottles and jars (clear, green or brown glass; lids not accepted).
Frequency
Curbside recycling pick-up occurs on a weekly basis, same day as trash. Carts must be placed curbside by 7 a.m. day of pick-up and must be returned to property by 7:30 p.m. A collection schedule is available
online
.
Other programs
Five drop-off recycling centers are located in Memphis. They accept all of the above materials. Locations include:
Gravel lot at the north entrance at Mud Island Park (125 N. Front St.)
Agricenter International (off Moore Road, just west of South Germantown Parkway)
First Congregational Church (1000 S. Cooper St.)
Hickory Hill Community Center (3910 Ridgeway Rd.)
ReCommunity (3197 Farrisview Blvd.)
Memphis developed a yard waste collection program in 1995. Today, the city recycles between more than 80,000 and 100,000 tons of organic material annually, turning yard waste into mulch and post-compost material. Household hazardous waste may be dropped off at the Memphis and Shelby County Household Hazardous Waste Collection Facility, located at 6305 Haley Rd. The facility is open Tuesdays and Saturdays, from 8:30 a.m. until 1 p.m. There is a 15-gallon or 100-pound limit per trip. Acceptable items include full aerosol spray cans, automotive fluids, automotive batteries, cleaners, construction and home-repair products, cooking products, electronics, flammable liquids, drain cleaners/openers, light bulbs and tubes, lawn and garden products, paints and thinners, pool chemicals and more. A full list of all acceptable materials can be found
here
.
More information
Visit the
Memphis Solid Waste Management website
for more recycling program info.