Background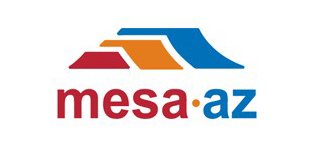 Mesa, AZ (pop. 452,083) is often referred to as a suburb of the state capital, Phoenix, about 20 miles to the west, but it is in fact the 38th largest city in the entire U.S. Despite its below-the-radar status, Mesa is right on par with many progressive cities across the country by hosting a single-stream curbside recycling program utilizing its blue barrels of varying sizes.
Materials recycled
Paper
Including computer paper, writing paper, junk mail, paper bags, magazines, catalogs, phone books, newspapers (including inserts), cardboard boxes, paper cartons (e.g.: milk, juice and ice cream cartons), paperboard (including tissue boxes and shoeboxes) and other paper-based packaging. Shredded paper is accepted in clear, sealed plastic bags.
Plastics
Plastics numbered 1 through 5 and number 7: cups, bottles, jugs, jars, tubs and clamshell containers. No plastic bags, Styrofoam or plastic film accepted.
Metals
Including aluminum cans, steel cans, clean aluminum foil, aluminum trays and metal lids and caps. All items must be clean.
Glass
Including all glass bottles and jars (any color; lids accepted; rinsed). Glass that once contained hazardous substances is not accepted.
Frequency
Curbside recycling pick-up occurs on a weekly basis. Barrels may be placed curbside, away from obstructions, no earlier than 6 p.m. the day prior to pick-up but no later than 6 a.m. day of pick-up. They must be returned to the property within 24 hours. A collection map is available
online
.
Other programs
Mesa hosts a Christmas tree recycling program from the day after Christmas through mid-January. City residents have a few options: they can cut down their tree to fit in their green waste curbside barrel, they can schedule a curbside pick-up for about $20 (trees collected in this manner will not be recycled) or they can drop off trees at 24-hour service stations. Stations include the City of Mesa Solid Waste Management Department (730 N. Mesa Dr.), the East Mesa Service Center (6935 E. Decatur St.), the Superstition Springs Police/Fire Substation (2430 S. Ellsworth Rd.), Mountain View Park (845 N. Lindsay Rd.) and Dobson Ranch Park (2363 S. Dobson Rd.). Mesa holds various household hazardous waste drop-off events throughout the year. Both the eastern and western halves of the city host these events. Please check the
City of Mesa HHW website
for the next dates and acceptable materials. The city operates three 24-hour recycling drop-off facilities for residents to utilize. Dobson Ranch Park, the East Mesa Service Center (addresses listed above) and the Juanita/Country Club Park-and-Ride Lot (1830 S. Country Club Dr.) offer residents in each part of Mesa, which stretches some 15 miles east to west, convenient drop-off recycling locations.
More information
Visit the
City of Mesa Recycling Program website
for more recycling program info.