Background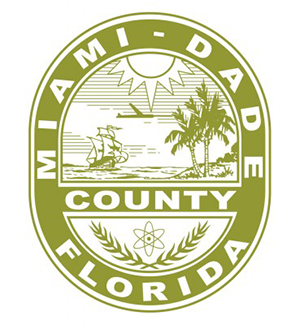 Miami's (pop. 413,892) curbside recycling program is operated by Miami-Dade County, which includes the city of Miami as well as 20 other municipalities, including Miami Beach, Miami Gardens, South Miami and others. The county hosts a single-stream curbside recycling program utilizing 65-gallon roll carts. Carts of other sizes — 35 or 95 gallons — are available based on need. As well, additional roll carts can be purchased if needed.
Materials recycled
Paper
Including newspapers, magazines, catalogs, phone books, office paper, printer paper, junk mail, copier paper, poly-coated drink cartons, juice boxes, milk cartons, corrugated cardboard and paperboard (must be flattened to fit in the cart).
Plastics
All "narrow-neck" plastic containers (opening of the container is smaller than the body). No caps or lids accepted.
Metals
Including all aluminum and steel food and beverage containers.
Glass
Including all glass food and beverage containers (clear, green or brown glass).
Frequency
Curbside recycling pick-up occurs on a biweekly basis, using specified recycling days. Carts must be placed curbside by 7 a.m. day of pick-up and must be within 3 feet of the curb and at least 5 feet from vehicles and other obstructions. Wheels must face the property, not the street. Collection schedules are available
online
.
Other programs
The Miami-Dade County Home Chemical Collection Centers (8851 NW 58th St. and 23707 SW 97th Ave. Gate B) are available for disposal of certain types of household hazardous waste and electronic waste for county residents. Both locations operate using the same hours: Wednesday through Sunday, from 9 a.m. until 5 p.m. Accepted materials include liquid-form latex paints, oil-based paints, pesticides, solvents, pool chemicals, unbroken light bulbs (fluoresecents and CFLs), empty propane tanks, empty oxygen tanks, computer monitors, TVs, computers, keyboards, hard drives, printers, VCRs, A/V equipment, cell phones and handheld radios. Miami-Dade County residents can also utilize several Trash and Recycling Centers (TRCs) around the county, where they can properly dispose of those items accepted at curbside, as well as e-waste and yard waste. All locations operate using the same hours: daily, from 7 a.m. to 5:30 p.m. Many of these locations also accept used motor oil, old tires (up to four at once), white goods and appliances. Locations:
Golden Glades (140 NW 160th St.)
North Dade (21500 NW 47th Ave. in Miami Gardens)
Norwood (19901 NW 7th Ave.)
Palm Springs North (7870 NW 178th St. in Miami Gardens)
West Little River (1830 NW 79th St. in Gladeview)
Chapman Field (13600 SW 60th Ave.)
Eureka Drive (9401 SW 184th St. in Palmetto Bay)
Moody Drive (12970 SW 268th St. in Homestead)
Richmond Heights (14050 Boggs Dr.)
Snapper Creek (2200 SW 117th Ave.)
South Miami Heights (20800 SW 117th Ct.)
Sunset Kendall (8000 SW 107th Ave.)
West Perrine (16651 SW 107th Ave.)
More information
Visit the
Miami-Dade County Public Works and Waste Management website
for more recycling program info.