When I made the switch to
Tom's of Maine
toothpaste, I can't say that I was convinced. The natural flavor was not one that I was used to, but it was more important for me at the time to be able to recycle my toothpaste tube. Fast-forward to present day, and I do not even like the taste of other toothpastes anymore. For many of us, the Tom's of Maine brand has been known for its recyclable aluminum toothpaste tube since the 1970s. So, it came as a surprise to me the day that I opened up the cardboard box of a new tube and found it to be —
gasp!
— mainstream plastic.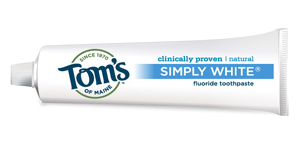 Of course, my first thought was that Tom's parent company, Colgate-Palmolive, was behind the transition, perhaps in search of a more cost-effective production option. However, it seems that a lot of research has gone into the switch, and the decision was actually influenced by consumers. "Tom's of Maine's success over time has relied on our consumers' faith in us," Peter Bright, Marketing Director at Tom's of Maine, says. "More than any product, more than any process, it's their trust that we share the same core values as they do — that we care about their health and satisfaction, as well as the future of our communities and the living planet we share. So it's important we keep on looking for new ways to improve how we serve them and how we do business in a sensitive and responsible way." According to the Tom's of Maine website, more than one-quarter of consumer complaints about their toothpastes had to do with the packaging. I find this to be so interesting since the reason I made the switch was that very reason. However, I will admit that as I tried to squeeze all of the toothpaste out toward the end of the tube, it often cracked and leaked — this accounting for 68% of the complaints of the aluminum tubes. With strict FDA regulations, Tom's of Maine made the switch to plastic laminate tubes, but not without tons of research and in keeping with its
Stewardship Model
. As it turns out, producing the plastic tubes uses less energy than the aluminum ones, and they are lighter to ship. In fact, the company's website states that the new tubes reduce the weight by nearly half. But, that doesn't answer the question on recyclability. Thankfully, it is nice to hear that Tom's of Maine is working on that. The company has partnered with
Illinois Tool Works
, a company that recycles the tube materials and then uses them to make packaging products. If you want to recycle your Tom's of Maine tubes, you can simply send the used ones to their facility in Maine, and then off to Illinois Tool Works they go through a process called "back-hauling" (using the trucks that would otherwise leave the facility empty). But, that's not all. Tom's of Maine is also looking to get rid of the cardboard the tubes are sold in. The company is also hoping to introduce post-recycled plastic content, and has also funded research for the use of bioplastics. Admittedly, the new plastic tubes are definitely easier to squeeze, but sending them to Maine is not necessarily convenient. However, I will add toothpaste tubes along with my other piles of nonrecyclable materials that I collect (Styrofoam, used frying pans and hard plastics) and will dutifully ship them off when I have a stash. I cannot help but wonder, will you do the same?
You can mail your used toothpaste tubes to:
Tom's of Maine
302 Lafayette Center
Attn: Consumer Department
Kennebunk, ME 04043
Be sure to check out the Tom's of Maine TerraCycle Brigade as well!