Let's face it, Valentine's Day makes us slightly cringe. While love is in the air, it is hard to see past the loads of cheap, wasteful gifts packaged in plastic that are on the shelves of every retailer large and small. And, while it might be convenient to pick something up during your next trip to the pharmacy, the truth is all of that waste eventually needs to go somewhere. Fill your day with a greener love instead by choosing gifts that says you are devoted to both your sweetheart and the environment. There is still time to order online, and we have found some pretty cool Valentine's Day ideas for your loved one. Made from recycled materials like skateboards, magazines and plastic bottles, we know these gifts will surely be saved and appreciated.
Mary Meyer's 'Fuzz That Wuzz'
Why we like them:
What were once plastic bottles are now stuffed animals. Each of the animals in the "Fuzz That Wuzz" line is made from 100% recycled plastic PET bottles. Mr. Pawzzz Bear (
above
) keeps 10 bottles out of the landfill himself!
Cost:
About $17
Available at:
Amazon
MLB Baseball Stitches Cuff Links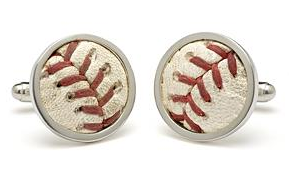 Why we like them:
For baseball fans, these cuff links are a homerun. They are made from authentic game-used MLB baseballs, complete with wear and tear. What's even cooler is that he can look up game the ball was used in.
Cost:
About $170
Available at: Red Envelope
Recycled paper honeycomb vase
Why we like it:
Now that you have purchased the flowers, you certainly need the perfect vase so she can show them off. The surface of this one is covered in tiny coils of reclaimed paper that vary in color and texture.
Cost:
$52
Available at:
Uncommon Goods
Tiny heart necklace
Why we like it:
Perfect as an everyday piece, she will love this necklace because of its simplicity and the recycled metals. It is handcrafted in San Francisco by Kris Nations.
Cost:
$42
Available at:
BTC Elements
Simple Living's recycled wood picture frames
Why we like them:
Smile at memories of times spent together by displaying them in a piece of history. These picture frames are handmade from wood that has been recycled from old homes, barns, boats and buildings.
Cost:
$12 to $89
Available at:
Simple Living Style
GSkateBack iPhone case
Why we like it:
Crafted in Oregon, the SkateBack features 100% post-industrial skateboard material and is available in three different color patterns.
Cost:
$39
Available at:
Grove