Mottainai (pronounced
moht-tai-nai
) is a Japanese term meaning "a sense of regret concerning waste when the intrinsic value of an object or resource is not properly utilized."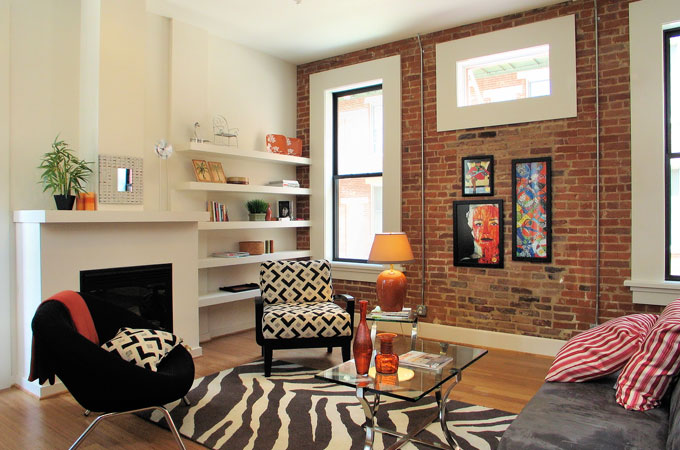 Mottainai Lofts
in
Cincinnati
endeavor to live up to the name by reusing reclaimed brick and wood joists when renovating the 100-year-old historic structure that now makes up eight lofts in Cincinnati's Over-the-Rhine neighborhood. This
LEED
-certified building is the first of its kind in the area. According to the developers, Northpointe Group and B2B Equities, Mottainai was "designed to provide flare and uniqueness while utilizing environmentally responsible and energy efficient materials." This goal was realized, as evidenced by one of the many awards Mottainai Lofts can boast: The Award of Merit for historical restoration from Associated Builders and Contractors, Inc., Ohio Valley Chapter 2009 Excellence in Construction Awards.
Not only was the integrity of the historic building maintained, but also, as mentioned previously, the original brick and wood joists were reused in the renovation whenever possible. Some of the features that earned Mottainai its LEED certification include smart energy meters, high-efficiency HVAC, energy-efficient lighting and
Energy Star-rated appliances
. All units also have cork and bamboo floors, Quartz countertops and translucent paneling in bath areas made from recycled 2-liter bottles. Use of low-VOC paints and landscaping with drought-tolerant plants are some other eco-friendly features of the building.
Residents of Mottainai are encouraged to live sustainably with convenient access to a community recycling area and bike racks. Cincinnati-based HGC Construction served as the general contractor on Mottainai. Mike Huseman, President of HGC, said, "Our renovation of these historic structures serves as a perfect model of how older buildings can be brought back to life using environmentally responsible materials to create beautiful and energy-efficient living spaces in an urban setting." It's wonderful that a new generation can enjoy these stately historic buildings in a fresh and sustainable way.