Whenever garbage is diverted from a landfill to be reused or recycled, it is a win-win for both the earth and its citizens. When such a diversion ends with an amazing piece of art, it takes that win-win to another level. Such is the work of artist
Clare Graham
and his mission, "to awaken people to the potential in garbage" takes the proverbial "one man's trash is another man's treasure" to new heights.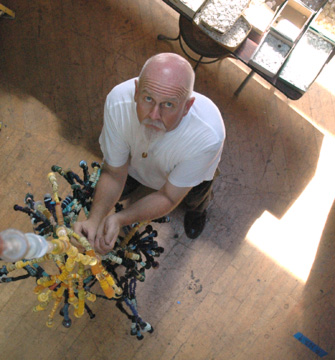 When Graham was growing up, his mother saved every button from the family's clothing that had become too worn to wear. Thirty-five years later, Graham turned these buttons into works of art. He describes himself as a "hunter/gatherer" that frequents swap meets, flea markets, garage sales and thrift stores to find objects that can be turned into works of art. To date, he has recycled approximately 5 million buttons. He repurposes "collections" of objects, including bottle caps, can lids, Scrabble tiles, buttons and wooden rulers.
Los Angeles Times Magazine
says it perfectly: "At first blush, the concept of a chandelier made out of buttons or a suite of furniture fashioned out of yardsticks sounds precisely like the kind of dreck one expects to find at a lame garage sale. But the grand scale, artistry and monomania of Graham's work elevate it from cornball into the realm of the sublime." Today, Clare Graham has an extensive collection of assemblages made from recycled and discarded materials, and if you find yourself in the
Los Angeles
area,  you can visit his
Mor York studio
in Highland Park, CA. The studio is a not-for-profit, artist-run gallery dedicated to enabling local artists. It houses Graham's work, and has a space for local artists to show their work. Through shows and special events, Mor York studio supports and promotes non-gallery-represented artists, and assists an exchange between the artists and the community.
To see photos and learn more about Clare Graham's art, visit claregraham.com.