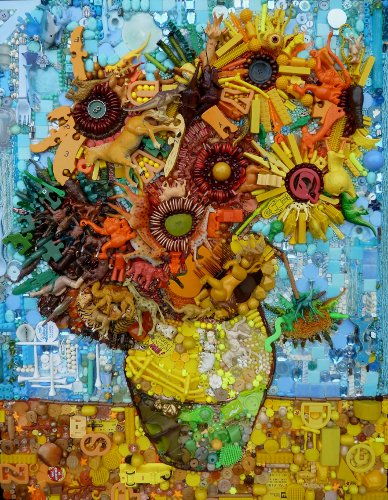 Recycled art is one of the many great achievements of the eco-friendly world. From tire rubber and scrap metal, to aluminum, trash and plastic, all forms of art can be created by using reusable materials. Devon, England-based artist Jane Elizabeth Perkins does just that, and her work is nothing like you have ever seen. Perkins has always been a creative spirit. In 2006, after 17 years as a nurse and 10 more as a full-time mom, she finally pursued her dream of art. She earned a degree in textiles and also wrote her thesis on "Art and Design from Recycled Materials." During her final year of school, Perkins began designing pieces with beach debris, driftwood and other found materials. "I enjoy using materials which have a history, and love art with an element of fun and the unexpected," Perkins says on her
Blue Bowerbird website
. Blue Bowerbird is not only the name of Perkins' website where she showcases her works, but it is also an interesting bird, which directly correlates with her recycled art. As Perkins describes, "The bowerbird from Australia builds a bower to attract mates. Bowers vary, depending on the species, but each male bird makes a structure of sticks, around which he places a variety of objects he has collected. These objects — usually of a hue to which the male in question is particularly attracted — may include hundreds of shells, leaves, flowers, feathers, stones, and even discarded plastic items or pieces of glass." The above description is exactly what Perkins does with her masterpieces. She, like the bird, gathers all kinds of objects and creates a "bower" of recycled beauty. Perkins goes on to describe how the bowerbird spends hours sorting his collection and placing each piece in a specific location. The end result is a unique piece that reflects the artist, just like Perkins. "No two bowers are the same, and the collection of objects reflects the personal taste of each bird and its ability to procure unusual and rare items (even stealing them from neighboring bowers)." One of Perkins' first inspirations came from religious festival headdresses from Ecuador. Decorated with broken pieces of jewelry, shells, coins and more, the headdresses gave Perkins an idea. She would make hand-stitched brooches from similar items. While earning her degree, Perkins' recycled art came to life, but after graduating, she started dabbling in portraits. She used the same techniques as her brooches, but on a larger scale. In addition to being crafted in a unique way, the portraits can be viewed in two ways. If you look from a distance, you see the image as a recognizable person. But, upon inspecting the portrait up close, you can see the repurposed materials and identify each one.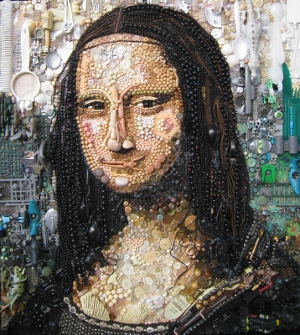 This gave her new inspiration for her current work called "
Plastic Classics
," where "Old Masters are given a contemporary twist." Such artistry includes the Mona Lisa, Van Gogh's "Sunflowers," Andy Warhol's "Marilyn Monroe," Monet's "Poppies" and Vermeer's "Girl with a Pearl Earring," among many others. It can be challenging for Perkins to finish a piece, especially when she runs out of materials of a certain color. This means that she has to hunt for more items at charity shops, boot sales and recycling centers. She sometimes even receives donations from friends and neighbors. At first glance, these works of art looks like they were painted. But, upon a second glance, you can tell something is different. Perkins' work is uniquely fabulous, and just goes to show that you can make stunning art with recyclable materials.
To keep tabs on Perkins and her recycled art, visit her
Blue Bowerbird
website.