Background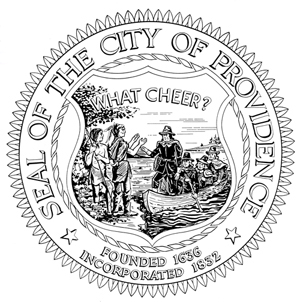 The "Recycle Together RI" program debuted in Providence, RI (pop. 178,432), in June 2012, introducing single-stream recycling to Rhode Island's largest city and metropolitan area. Fueled by the "Four Es" — Ease, Environment, Economy and Each Other — the program aims to simplify recycling for Rhode Islanders while teaching the importance of recycling and reuse. The new program also increased the number of plastic items accepted at the curb and brought significant improvements to Rhode Island's Materials Recycling Facility. And, recycling is the law here — it is written into the Providence Code of Ordinances.
Materials recycled
Paper
Including newspapers, phone books, envelopes, office paper, spiral notebooks, flattened corrugated cardboard (no greasy pizza boxes), wrapping and tissue paper, gift bags, paperback books, paper food boxes (no "cold pack" frozen food containers), junk mail, paper bags, magazines, toilet paper/paper towel tubes, milk and juice cartons, juice boxes, soup and broth cartons and egg cartons.
Plastics
All plastic containers up to 2 gallons in size are accepted, regardless of resin identification number. Items include jugs, bottles, jars, tubs, take-out containers, plastic cups, yogurt containers and plastic egg cartons. All items must be rinsed/cleaned. Lids and caps are OK. No plastic straws or Styrofoam accepted.
Metals
Including aluminum cans, aluminum foil, aluminum trays/pans, tin/steel cans, and empty aerosol cans. All items must be rinsed/cleaned. Do not crush.
Glass
Including all glass bottles and jars (all colors). Must be emptied and rinsed with lids removed. Lids
can
be recycled!
Frequency
Curbside recycling pick-up occurs on a weekly basis, same day as trash. Carts must be placed curbside by 4 a.m. day of pick-up. A collection schedule is available
online
.
Other programs
Curbside yard waste disposal is available from mid-April until mid-December each year. Leaves, yard trimmings and branches less than 4 feet must be bundled in clearly labeled paper bags or open containers and put out on trash-collection day. Rhode Island state law prohibits the disposal of household hazardous waste in regular trash. HHW items must be taken to the Eco-Depot at the Rhode Island Resource Recovery Corporation at 65 Shun Pike in nearby Johnston. HHW items include automotive batteries, rechargeable nickel cadmium batteries (no alkaline batteries), gasoline, oil-based paints, fluorescent light bulbs and lamps, pool chemicals, propane tanks, lawn chemicals, fertilizers, weed killers, turpentine, bug sprays, antifreeze, paint thinners, strippers, varnishes, stains, arts and crafts chemicals, charcoal lighter fluid, disinfectant, drain clog dissolvers, driveway sealer, flea dips, flea sprays and collars, houseplant insecticides, metal polishes, mothballs, motor oil and filters, muriatic acid (concrete cleaner), nail polishes and nail polish removers, oven cleaner, household pest and rat poisons, rug and upholstery cleaners, shoe polish and windshield wiper fluid. State law also prohibits the disposal of e-waste in the regular waste stream. Residents must schedule a free e-waste pick-up by calling the Waste Management Customer Center at 1.800.972.4545, or they can dispose of e-waste in the marked containers in the parking lot of the Department of Public Works, located at 700 Allens Ave. The RIRRC also schedules e-waste collection events throughout the year. See its
website
for the latest details.
More information
Visit the
City of Providence Department of Public Work website
for more recycling program info.