Background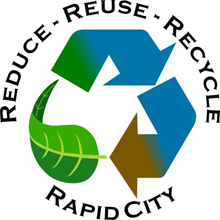 Rapid City (pop. 69,854) is leading the recycling charge in South Dakota. The state's second-largest city, and the economic hub of the Black Hills region, Rapid City is home to a straightforward, no-frills single-stream curbside recycling program. While the curbside program does not accept any paper products, it is still an advanced program for a city of this size.
Materials recycled
Paper
Note:
Paper is
not
collected for recycling at curbside. Paper products in curbside refuse are composted at the Rapid City MRF. Newspapers and corrugated cardboard can be dropped off at select locations (
see below
).
Plastics
Plastic items with a recycling triangle on the body are accepted, including milk jugs, detergent jugs, soda bottles, water bottles, hair care bottles, food containers, empty paint containers, drained oil containers and more.
Metals
Including aluminum cans, aluminum bottles, hairspray cans, shaving cream cans, spray starch cans, steel cans, empty paint cans and empty aerosol cans.
Glass
Including all glass bottles and jars (no lids).
Frequency
Curbside recycling pick-up occurs on a weekly basis, same day as trash. Carts must be placed curbside at least 4 feet from any obstructions by 7 a.m. day of pick-up. A collection map and a schedule are available
online
.
Other programs
Rapid City operates three drop-off recycling locations that accept newspapers (including inserts and flyers), corrugated cardboard (flattened; no waxy cardboard, paperboard or pizza boxes) and curbside recyclables.


Fitzgerald Stadium parking lot (Sheridan Lake Road across from Sioux Park)
West Boulevard North (Anamosa Street and West I-190 service road)
Fairmont Boulevard (Robbinsdale Park west of Highway 79)
Yard waste, including grass clippings, tree branches (under 6 feet in length and 4 inches in diameter) and organic materials, is collected at the curb from April through November each year. Yard waste must be secured in a biodegradable paper yard waste bag. Christmas trees are also picked up on a seasonal basis. South Dakota Democracy in Action has created a
digital "recycling booklet"
available for download that details what Rapid City residents can do to properly dispose all kinds of other recyclables, including e-waste, automotive wastes, appliances, batteries, eyeglasses, drugs/pharmaceuticals, household hazardous waste, pesticides/herbicides, plastic bags, paper products, building materials, metals and biohazard wastes.
More information
Visit the
Rapid City Solid Waste Operations website
for more recycling program info.