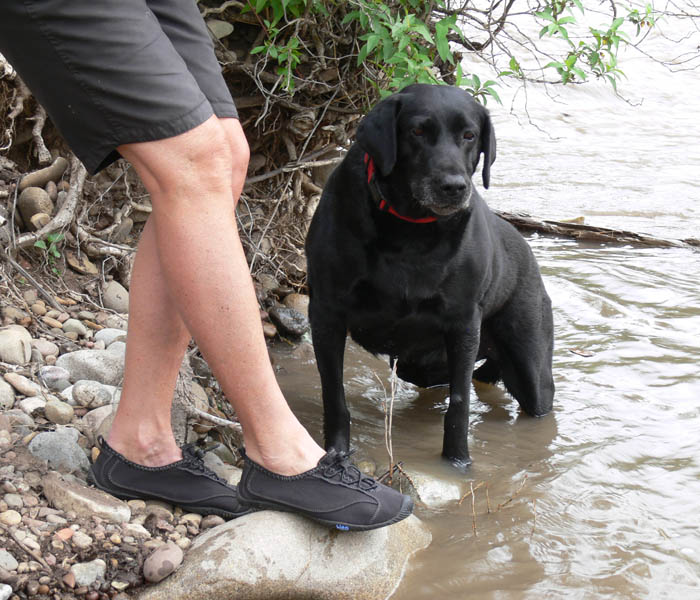 As spring fast approaches, so does the body's desire to stop hibernating and get out and enjoy the outdoors. If you live in the frozen North, the desire to go outside without first putting on as many layers as possible and pulling on warm winter boats has to be satisfied, for now, with dreaming about the spring days ahead. If that dreaming includes a marathon or a quick walk around the block, then take a look at
kigo footwear
. This minimalist footwear line worked with customers, doctors, biomechanics specialists and athletes to create chic shoes that are good for the body and for the earth. As explained on the company's site, all
kigo shoes
have a few key features:
All kigo shoes are constructed with a thin, flexible outsole, removable contoured insoles and lightweight breathable uppers. They feel as light and malleable as a second skin.
All kigo shoes are designed with versatile colors and wearable styles. They work just as well for everyday wear as they do for athletic pursuits.
All kigo shoes feature a thin outsole, feather-light weight and full flexibility. They are everything you need for activity and nothing you don't need.
All kigo shoes are made with a unique combination of environmentally friendly materials and processes, including innovative recycled PLUSfoam HD Plus high-compression foam outsoles, post-consumer CYCLEPET uppers and certified nontoxic dyes, glues and water/stain resistance.
Recycled PLUSfoam HD Plus high-compression foam is a 100% recyclable alternative to traditional foams (ethylene-vinyl acetate and polyurethane), rubbers and plastics. According 
PLUSfoam's website
, many of the brand's products yield zero manufacturing waste, while other products' waste is greatly reduced. The outsoles can be made from various combinations of reclaimed consumer products, post-manufacturing scrap and virgin material, making them 100% recyclable. CYCLEPET is an energy-conserving fabric made of post-consumer
polyethylene terephthalate (PET)
bottles. You can find kigo footwear at a few retail stores in the U.S. and Canada. Visit
kigofootwear.com/retail.asp
to find locations, or purchase online at
kigo's online store
. You can also send your used kigo flit or drive shoes to their recycling center: PLUSfoam RECYCLE Center Attention: Product Recycling 1510 Cantera Ave. Santa Barbara, CA 93110 Shoes that are sent in are recycled and reused, eliminating needless landfill waste and the need for virgin material. Wherever you will celebrate the coming of spring, these smart shoes will be a great fit. For more information, visit
kigofootwear.com
.