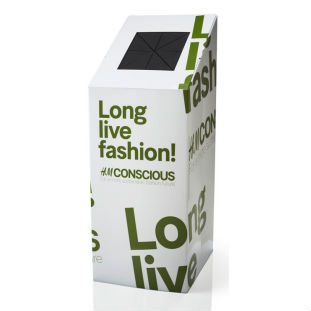 One of the most popular clothing companies is getting in on the eco-friendly action by launching the very first garment-recycling initiative. It is none other than H&M.
At
Global Green USA
's 10th annual pre-Oscar party last month,
H&M celebrated
its new clothing-recycling program, along with its partnership with Global Green. The brand new initiative, which went into effect in February 2013, allows customers to exchange any used garments, from
any brand
,
in any condition, at each of H&M's 269 (and growing) U.S. stores and 48 markets worldwide. This will help avoid textile waste, save natural resources and reduce environmental impact. Similar to other recycling programs, H&M offers an incentive. For each bag of clothing donated, customers will receive a voucher worth 15% off of their next purchased item. "We believe this program will really make an impact in reducing the amount of clothing that ends up in landfills all over the world and we are excited that, at the same time, we will raise funds for Global Green USA to continue their great work," H&M Continental Communications Director Marybeth Schmitt said. The funds raised by H&M will benefit Global Green's projects, including constructing green buildings, rebuilding communities suffering from climate change and sea level rise, and helping communities damaged by hurricanes Katrina and Sandy.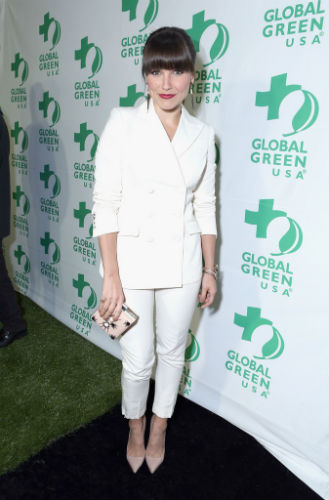 At the green bash, H&M also had an exclusive "Conscious lounge" highlighting its sustainability measures and its Conscious clothing line, which showcases sustainable fashion benefiting the planet. The Conscious line includes tops, jeans, scarves, underwear and other items designed from organic cotton, recycled polyester and other eco-materials. The collection is available online for purchase for
women
,
men
and even
kids
! As you can see to the left, actress Sophia Bush showcased H&M's Spring 2013 Conscious Exclusive collection by wearing a beautiful ivory organic cotton three-piece suit. "For many years Global Green has been setting a shining example of what it means to be a conscientious consumer and citizen," Bush said. "To have H&M joining us in this fight, and helping to remind the world that chic and sustainable are in fact one-in-the-same, is such an exciting development! What an amazing opportunity we all have to be better to our ecosystems and communities every day." For more information, visit H&M's
official website
. Remember, H&M isn't the only business or place that takes used garments for recycling. Check out
what's available
in your neighborhood.