Background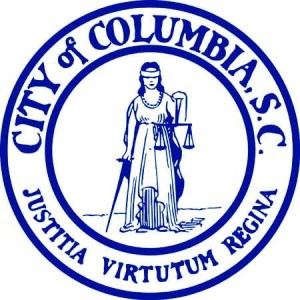 Columbia (pop. 131,686), the capital of South Carolina and the largest city in the state, is leading the recycling charge in the Palmetto State. Curbside recycling service utilizing blue recycling bins is available through the city's Solid Waste Division to an approximate 29,000 households and small commercial buildings. There is currently a high participation rate — about 85% — throughout the city, and a number of complementary drop-off programs give Columbia residents plentiful recycling options.
Materials recycled
Paper
Including flattened corrugated cardboard, flattened paperboard, magazines, newspapers and newspaper inserts, junk mail, office paper, envelopes (plastic windows are OK), juice/milk cartons, paper cup holders, paper bags and clean pizza boxes. Telephone books, which were not previously accepted, can now be dropped in the curbside bin as well.
Plastics
Including plastic bottles, plastic jugs and jars, yogurt and butter tubs, plastic trays, plastic baskets and frozen dinner trays. No plastic bags or Styrofoam accepted.
Metals
Including aluminum cans, steel/tin cans, metal lids (placed in cans), aluminum pie pans and empty aerosol cans.
Glass
Clear, brown and green glass jars, jugs and bottles are accepted.
Frequency
Curbside recycling pick-up occurs on a weekly basis. Carts must be placed curbside the night prior to pick-up, and must be returned to property by 7:30 p.m. on pick-up day.
Other programs
The City of Columbia operates two recycling drop-off centers:


2600 Bull St., located behind DHEC — this location accepts the same items as the curbside recycling program
Corner of Washington and Wayne streets (at Congaree Vista) — this location accepts flattened cardboard, glass, plastic, aluminum, newspaper, telephone books and office paper
Columbia was the first city in the Midlands to introduce a residential e-waste drop-off program, which began in 2007. Columbia residents (with ID or proof of residency) can drop off items Mondays, Tuesdays, Thursdays and Fridays, from 9:30 a.m. to 3:30 p.m., at the Public Works Headquarters at 2910 Colonial Dr. Accepted items include computers, monitors, televisions, VCRs, DVD players, audio and stereo equipment, cellular phones, digital cameras and other electronic devices. A city-sponsored commercial office paper collection program greatly cuts back on the amount of paper waste within Columbia city limits. Bulk collection items include uncoated white or colored paper (any color ink), NCR/carbonless forms (any color), notebook paper (any color), computer paper (green and blue bar, white), receipts/tickets (any color), stationery/letterhead (any color), copy paper/copies (any color), all fax paper, self-adhesive notes (e.g.: Post-Its; any color), card stock (any color), envelopes without windows (any color, except manila/gold), laser copies (any color), cash register/adding machine tape, message notes (any color) and typing paper. Staples are OK. Columbia's composting facility, located at on Humane Lane off of Shop Road (across from the animal shelter), receives almost 25% of the city's solid waste tonnage.
More information
Visit the
City of Columbia Solid Waste Division website
for more recycling program info.