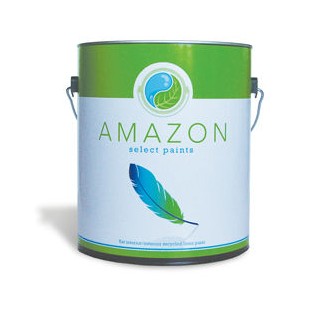 Spring is the perfect time to fix up your home, as it's a great time to get all of your projects out of the way just in time for the warm summer months ahead. This year, why not stray from the norm, and try to fix up your home with the most eco-friendly products available? This way, not only will you benefit the planet, but you can also turn your home into one rockin' green masterpiece!
To steer you in the right direction, check out some awesome recycled paint that will surely transform your interior walls and outside projects. The paint, called
Amazon Select
, is presented by
Amazon Environmental
. Amazon Select, which is Green Seal approved, offers some of the most eco-friendly recycled latex paints in the paint industry. Each can contains premium-quality paint that is made during Amazon's reprocessing system, ensuring the color, gloss, viscosity and coverage meets each customer's specifications.
The latex-paint recycling process
Amazon sorts each paint by opening and inspecting each can received. It is then determined if the paint is usable. Those of high quality are then hand sorted by color and selected as a reusable paint.
Paints of the same color are mixed together in a tank with a high-speed mixer. The mixture is then tested for viscosity, color, sheen, coverage, pH and other paint elements. If necessary, the paint is adjusted with additives. When finished, the paint is filtered and packaged.
What are the benefits?
By using recycled paint, you are helping save all those resources that go into creating new paint, i.e., the energy, the transport, the pigments, the minerals and the chemicals.
Recycled latex paints prevent other paints from filling up landfills, and from consumers tossing paint down the drain.
Amazon's paint contains more than 80% post-consumer content material, qualifying it for LEED credentials.
Amazon Select is much more preferable than low- or no-VOC paint. For example, creating a gallon of virgin paint uses more resources and more energy compared to the manufacture process of Amazon's recycled content paint.
In addition to its sustainability, Amazon Select offers customers a variety of 12
standard colors
like Whipped White, Stony Gray, Mocha and Autumn Mist. Each is available in a flat finish. If you want more vibrant colors, you can contact Amazon directly for custom colors and paint sheens. Amazon paints are available for purchase across the country. Amazon is so confident that you will love its recycled paint that it will refund any purchased paints within one year of shipment, no questions asked. Be sure to browse through all of Amazon's
eco-friendly standards
, and see how you can improve your wall color this season.