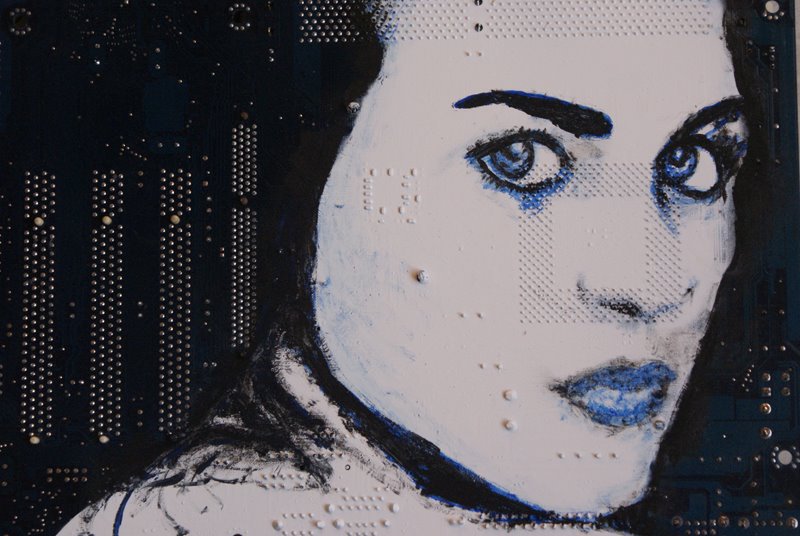 All images courtesy of Andrea Boriani.
In the northern Italian province of Lodi, a grassroots e-waste recycling effort is underway, but not in the traditional sense. Techy Andrea Boriani has quietly been building a pile of reusable e-waste — lots of early '90s relics like cassette tapes, floppy disks, CD-ROMs and antiquated PC motherboards — to use as canvases for his brand of recycled artwork.
"It's possible to lengthen the life of products by changing the intended use of a part [of an object]," Bariani notes on his
website
. He recently gave 1-800-RECYCLING a closer look into his artistic process and described how he started using these unique canvases in the first place.
Si Robins: How did you get inspired to start using your "alternative canvases"?
Andrea Boriani: 
I am a computer consultant. I am always working with old hardware, and I always [try to] find a way to reuse it. Then, I came up with the idea to use them as alternative canvases on which to paint.
SR: Where do you source your hardware from?
AB: 
Lately, a lot of my friends and some people who appreciate my work [have been sending] me large quantities of floppy disks, CD-ROMs and even pieces of damaged computers, which otherwise would have probably thrown [away].
SR: In an age of all-digital storage, do you get a lot of comments about using "ancient" hardware like floppy disks and CD-ROMs?
AB:
[Viewers] often ask me why I don't use [a regular] blank canvas. The fact is, the reuse of objects used by other people — [items on which] they wrote stories, documents, etc. — adds value to the artwork.
SR: What is the interest level for using reclaimed materials as art subjects like in Italy? Has the response to your work been positive? Are there other artists doing similar things?
AB: 
Italians are beginning to show some interest with respect to recycling as a form of art. There are new designers, independent artists like me and architects using materials [typically] destined for landfill to create art.
SR: Your subjects seem to center on the female form and celebrities. How does pop culture influence your work?
AB: 
Pop art is certainly a source of inspiration. Starting with the canvas on which I paint, CDs and floppy disks are definitely very popular. As for the subjects portrayed, [I focus on] celebrities and superheroes, [mixed] with the world of tattoos and street art.
SR: Where can our readers find out more or see your work in person in 2013?
AB: 
Certainly, for modern indie artists, [the] Internet and social networks are the best way to be seen and known, although seeing a live show definitely has a completely different flavor. I will turn in 2013 with little exhibitions in Italy, with a little jump [to] London, probably in May.
For further information on Boriani's creations, visit his website and Facebook page.