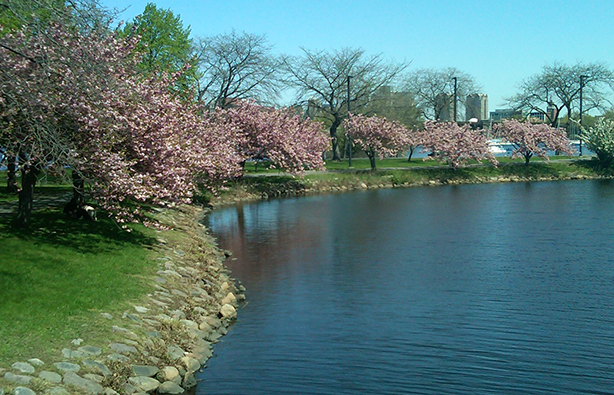 Due to recent events in Boston, this event has been rescheduled to Saturday, April 27, 2013, from 9 a.m. to noon.
If you live in the
Boston
area and you don't have plans for April 22 (Earth Day), here is one way you can give back to the planet and the New England city. Boston-based organization the
Charles River Watershed Association
(CRWA) is continuing its Earth Day tradition with the 14th annual Earth Day Charles River Cleanup event, as part of the American Rivers National River Cleanup. Every Earth Day, volunteers help the CRWA clean up the Charles River, its tributaries and surrounding areas. Each person helps pick up trash at more than 100 different sites along
the 80-mile river
. Over the years, volunteers have found TVs, bicycles, Styrofoam cups and plastic bags, among other items. At last year's Earth Day cleanup alone, more than 4,000 volunteers removed 40 tons of litter. As one of the oldest watershed organizations — founded in 1965 — the CRWA has greatly improved the river's condition year after year, and hopes to keep it that way. The river continues to see problems with water quality, stream flow, algae, sediments and stormwater and runoff pollution. The CRWA strives to complete the following:
Develop a sound, science-based understanding of interactions in the watershed.
Define long-term, cutting-edge solutions to watershed problems.
Promote sustainable watershed management practices with government agencies and private entities.
Advocate for the protection, revitalization and expansion of public parklands along the Charles.
The Earth Day event might not accomplish all of the above, but it is a step in the right direction. If you are looking to join in helping keep the Charles River area clean, healthy and beautiful, head on over to the CRWA and
sign up now
. The Cleanup takes place on Saturday, April 20, 2013, from 9 a.m. to noon. There is no cost to attend, and all cleaning supplies are provided. The CRWA does ask volunteers to please bring reusable water bottles. Volunteers will also receive snacks and a free T-shirt. For more information, visit the official
CRWA website
or call 781-788-0007 x 303. Be sure to look around 1-800-RECYCLING for other
Earth Day activities
throughout the nation that you can attend.