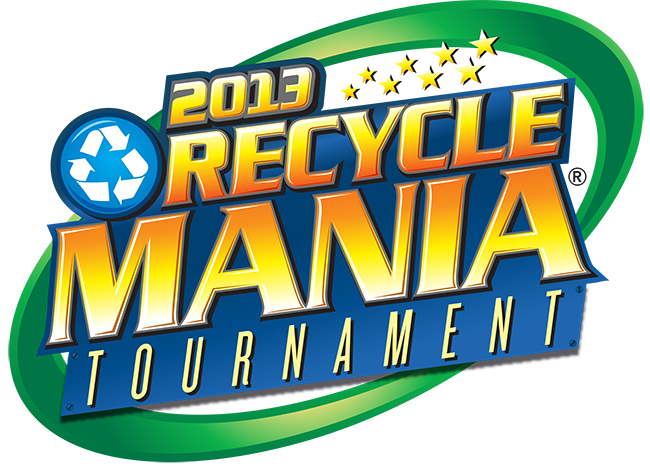 Recycling rivalries added another level of "madness" to March this year, as 523 schools competed in the RecycleMania Tournament, which harnesses the competitive spirit around sports rivalries and uses them to increase campus recycling and waste reduction. Colleges and universities across the United States and Canada participated in the eight-week competition in which schools are ranked according to how much recycling, trash and food waste they collect. Between the Feb. 3 kickoff and the tournament's final day on March 30, participating schools collectively recovered 90.3 million pounds of recyclables and organic materials, preventing the release of nearly 121,436 metric tons of carbon dioxide equivalent (MTCO2E) into the atmosphere. During this 13th annual tournament, updated weekly rankings allowed schools to track their performance in eight categories – measuring their recycling rate; overall recycling by weight; lowest amount of total waste; and per capita recovery for paper, cardboard, cans and bottles, and food waste. Colleges also participated in several special categories targeting electronics and film plastics, as well as the "Game Day: Basketball" category, which ranked schools based on recyclables collected at a single home basketball game. The colleges and universities that took home top prizes in the three primary categories are:
"Grand Champion" (percentage of overall waste that is recycled): University of Missouri-Kansas City – (86.02%)
"Per Capita Classic" (total pounds of recyclables collected per person): California State University-San Marcos – (53.11 lbs.)
"Waste Minimization" (lowest recyclables and trash per person): Valencia Community College- (3.20 lbs.)
"Each year universities eagerly wait for the final results of the competition," said Stacy Wheeler president of RecycleMania, Inc. "Because everyone participating is a competitor, this helps create the spirited atmosphere for students to develop new and better ways to recycle more.  In the end, it's a win for the home team and planet earth." The RecycleMania Tournament is an independent program of RecycleMania, Inc., a nonprofit organization led by recycling managers from participating schools. Program management is provided by Keep America Beautiful with additional program support from the United States EPA's WasteWise program and the College and University Recycling Coalition (CURC). This year, RecycleMania also partnered with the United Negro College Fund Special Programs (UNCFSP) and Campus Conservation National (CCN). "RecycleMania is a powerful tool to communicate the recycling message to college students in a way that resonates with their values and experience," said Matt McKenna, president and CEO of Keep America Beautiful. "KAB is delighted to play a role in growing the impact of this program. Congratulations to all the participants for making the 2013 competition such a success." The competition is made possible with the sponsorship support of the American Forest & Paper Association, Alcoa Foundation, The Coca-Cola Company and SCA. "Programs across the country like those of the RecycleMania winners have helped the paper industry maintain our high recovery rate — more than 65 percent for the past two years, diverting over 100 million tons of paper from landfills," said AF&PA President and CEO Donna Harman.  "More paper is recovered for recycling from municipal solid waste streams than any other commodity, and we can't thank the participating students and faculty enough for their hard work." "We applaud all of the RecycleMania participants for so enthusiastically stepping up to reduce more waste and increase recycling," said Paula Davis, president, Alcoa Foundation. "This program supports the aluminum industry's goal to increase can recycling rates in the U.S. to 75 percent by 2015. By motivating and educating students, we're encouraging lifelong positive recycling behaviors that will reduce the need for landfills and save substantial amounts of energy and money." "Congratulations to all of the students who competed in protecting our environment and conserving natural resources by participating in RecycleMania," said Alain Robichaud, president of Coca-Cola Recycling. "Coca-Cola is proud again this year to support the recycling efforts of students on college campuses around the country. Through them, it reminds all of us that good things happen when we recycle." "On behalf of the entire SCA team, congratulations to this year's RecycleMania winners and to all participating schools for taking action and committing to recycling. Now the challenge is to take that passion and energy and keep it going year-round to help inspire others to act and live sustainably," said Joseph Russo, vice president, sales & marketing, SCA's Away From Home Professional Hygiene business in North America. Top schools in each category earn "bragging rights," while the national winners of each category are recognized with an award made from recycled materials. Complete results for all 11 categories can be found on the RecycleMania website, including a breakout that shows how schools performed by athletic conference, institution size, state and other groupings. Visit 
recyclemania.org
 for 2013 results.
About RecycleMania
RecycleMania was launched in 2001 as a friendly challenge between Ohio University and Miami University to increase recycling on their campuses. The contest has expanded from two schools in 2001 to 523 colleges and universities in 2013 spanning 49 states, the District of Columbia and Canada. For complete competition details including a list of participating school, visit the RecycleMania website at 
recyclemania.org
.