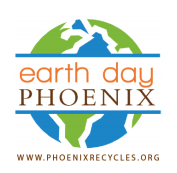 Where:
The Cesar Chavez Plaza, 201 W. Washington St., Phoenix, AZ 85003
When:
Monday, April 22, 2013, from 11 a.m. to 1:30 p.m.
What:
A free exhibit featuring businesses, nonprofits and city, state and county government departments. The event brings Phoenix residents, visitors and members of the business community together to learn from a variety of exhibitors about what they can do to reduce waste. The core message of the event is the benefits of recycling, though it also focuses on water-waste reduction and energy efficiency. The event also promotes public and private resources available to help individuals and organizations to reduce waste and make more environmentally friendly choices.
More Information:
earthdayphoenix.org