Background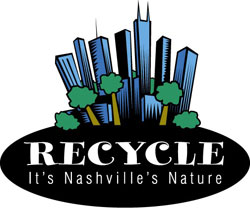 Nashville, TN's (pop. 626,681) ploy to get its residents to recycle is simple: Urge them to save money. In July 2012, the city implemented a new fee structure that charges households with more than one trash cart an extra fee. The solution? Recycle more and save more. The city offers residents extra recycling carts for free in hopes of increasing its citywide recycling rate. Nashville's current curbside recycling program offers monthly single-stream pick-up using 96-gallon green roll carts.
Materials recycled
Paper
Including office paper, magazines, junk mail, newspaper, computer paper, notebook paper, phone books, paperback books, construction paper, brown paper bags, milk/juice cartons (clean), cardboard boxes and food boxes (clean). All boxes must be broken down.
Plastics
Including drink bottles (caps OK), detergent/cleaner bottles (caps OK), yogurt/cottage cheese and other dairy tubs (clean; lids OK) and plastic trays (any color except black). No plastic bags, plastic clamshells or Styrofoam.
Metals
Clean food and drink cans (aluminum, steel/tin), empty aerosol cans and aluminum foil and trays are accepted.
Glass
Glass is not accepted at the curb in Nashville. See below for drop-off glass-recycling information.
Frequency
Curbside recycling pick-up occurs on a monthly basis. Carts must be at the curb by 7 a.m. on collection day and must be at least 3 feet from any obstructions. A collection schedule is available
online
.
Other programs
Nashville's Public Works Department operates a number of drop-off recycling centers, many of which accept glass in addition to the items listed above. Most are 24 hours. A complete listing (with map) is available
online
. Three residential waste and recycling facilities are located in the Nashville region. All accept household recyclables (including glass) as well as residential trash and scrap. The East Center also accepts
household hazardous waste
. Most items do not incur a fee, but there are exceptions.
East Center, 943-A Doctor Richard G. Adams Dr., open Monday through Saturday, from 7:30 a.m. to 5 p.m., and Sunday, from noon to 4 p.m.
Omohundro, 1019 Omohundro Pl. (entrance on Freightliner Drive), open Tuesday through Saturday, from 8 a.m. to 4:30 p.m.
Anderson Lane Center, 939-A Anderson Ln. in Madison, TN, open Tuesday through Saturday, from 8:30 a.m. 5 p.m.
Nashville also operates a rather extensive
pharmaceutical waste disposal program
. A seasonal yard waste collection program runs throughout the year, with each area of the city receiving service three times annually. A map and collection calendar are available
online
.
More information
Visit the
City of Nashville Recycling page
for more recycling program info.