Background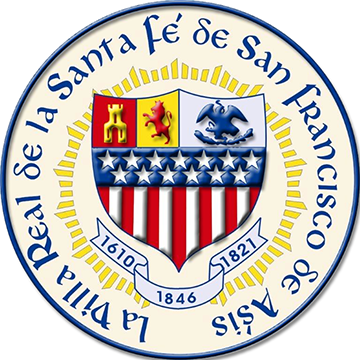 The
Santa Fe Solid Waste Management Agency
, formed in 1995, handles curbside collection in Santa Fe, NM (pop. 68,642). The city is the oldest capital in the U.S. (founded in 1610), but its relatively new materials recovery facility, which opened in 2006, has catapulted the Santa Fe region to the top of the list of New Mexico's recycling advancements. The city features a two-bin system to collect its recyclables — one bin for glass, and another for paper, plastic and metal items.
Materials recycled
Paper
Including corrugated cardboard (sections sized less than 3×3 feet; large amounts must be bundled), newspapers and inserts, flyers, office paper (loose paper must be placed in a paper bag and put into the recycling bin), junk mail, catalogs, magazines and shredded paper (bundled in a clear plastic bag).
Plastics
All bottles, jars and jugs numbered 1 and 2. No lids. All items must be clean.
Metals
Including aluminum cans, steel/tin cans, aluminum foil, aluminum pans and empty aerosol cans. All items must be clean.
Glass
Glass jars and bottles accepted (no lids). All items must be clean. All glass items must be placed in the glass-recycling bin.
Frequency
Curbside recycling pick-up occurs on a weekly basis, same day as trash. Bins must be placed curbside by 8 a.m. day of pick-up and must be spaced 3 feet from other objects.
Other programs
Santa Fe's battery recycling program accepts cell phone batteries, cordless phone batteries, cordless drill batteries, laptop batteries, rechargeable batteries (AA, AAA, C, D), Ni-Cd batteries, Ni-Mh batteries, lithium-ion batteries, nickel-zinc batteries and small sealed lead batteries (no alkaline batteries) at two convenient drop-off centers: the Buckman Road Recycling Transfer Station at 2600 Buckman Rd. and the Environmental Services Division at 1142 Siler Rd. Refuse and recyclables (including e-waste) may be dropped off at the Buckman Road Recycling Transfer Station for a fee every day from 8 a.m. to 4:45 p.m. Accepted items: newspaper, junk mail, magazines, shredded paper (in a plastic bag), corrugated cardboard, aluminum cans, empty aerosol cans, tin and steel cans, plastic bottles with a neck numbered #1 and #2, all colors of glass bottles and jars, phone books, green waste, scrap metal, books (hardback and softback), tires, fluorescent bulbs, computers, monitors, printers, fax machines, copiers, scanners, plotters, peripherals, telecommunication equipment, servers, phone systems, security equipment, UPS systems, cell phones, VCRs and audio equipment.
Click here
for fee information. Phone books may also be recycled at any of Santa Fe County's eight
transfer stations
. Santa Fe recycles yard waste (tree trimmings and leaves) at the Buckman Road Recycling and Transfer Station. Leaves must be bagged. Cut branches to 4-foot sections. Bundles must be 40 pounds or less. Bag tags for extra bags of leaves can be purchased at City Hall Cashier's office at 201 W. Marcy St. or the Water Division at 801 W. San Mateo Rd. Set out extra bags with tags beside trash bin.
More information
Visit the
Official Santa Fe, New Mexico Website – Recycling Information
page for more recycling program info.