Just like everything else, it seems that no recycling experience is the same, especially when you look at how people recycle in different cities across the country. To get a sampling of everyday recycling, I asked five people from all over the country — ranging from the Southwest, to the Midwest, to the South — about what their daily experience with recycling was like. Some said that their cities provided bins and it was easy to recycle, while others said their city charged extra for curbside recycling, so they had to do it themselves to avoid the extra fees. Yet, most of the group agreed that they would like more information about what happens to the recyclables once they are collected. Having a better grasp on this, my subjects said, would inspire them to become better recyclers.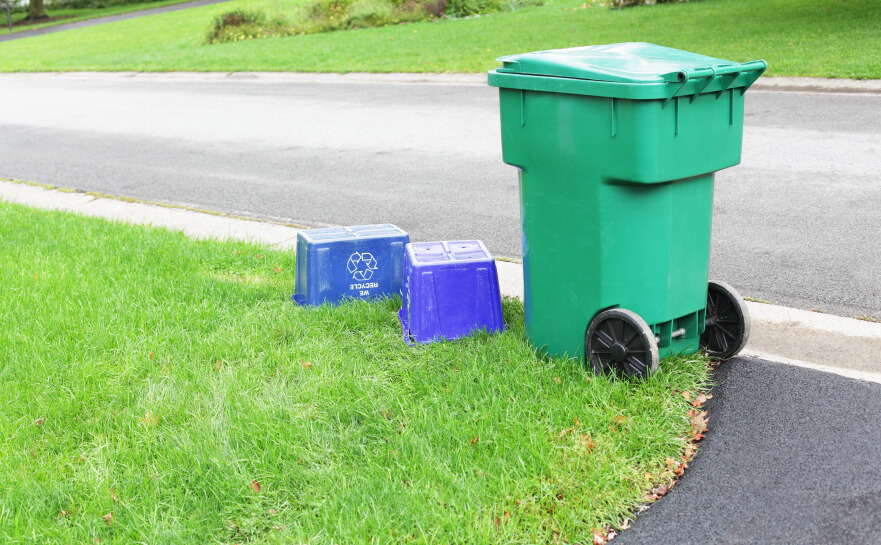 Meet the five people interviewed:
Faysal, an IT professional who lives with his wife and daughter in an apartment complex in Evanston, IL
Naz, an electrical engineer who lives with her husband and two daughters in a single-family home in Alpharetta, GA
Shabana, a stay-at-home mom who lives with her husband and four kids in a single-family home in Carlsbad, CA
Shah, an IT professional who lives with his wife and two kids in a single family home in Chandler, AZ
Rose, a tailor who lives with her husband and daughter in a single-family home in Brownsburg, IN
How recycling is handled in different cities
Faysal tells us that his apartment complex provides designated bins for recycling. Naz, Shabana and Shah said their cities provide their single-family homes with a large recycling bin that they put out to be collected on a weekly basis. Rose is not so lucky, as Brownsburg tacks on a monthly $28 curbside recycling fee on top of a $45 fee for trash pick-up. To avoid this extra fee, Rose collects her family's recycling in her own bin at home and then takes the materials to nearby recycling dumpsters on a monthly basis. All six reported that their cities allow for single-stream recycling.
What is not clear about recycling
Faysal said he was confused about what actually gets recycled and how efficient that process is, as well as which plastics are and are not accepted in Evanston. Plus, he was curious about the "monumental task" of the separation process, since he enjoys single-stream recycling at home. Naz and Shah had the same question — should they wash recyclables like food cans and milk bottles before throwing them in the recycle bin? Shabana wanted to find out more about the positive impact of recycling. And, Rose wondered why recycling has not been made mandatory by the Town of Brownsburg.
What would make recycling easier
Faysal said literature explaining how recycling works and where the material goes, who pays for it, who benefits and which types of things are not acceptable would make recycling easier for him and his family in Evanston. Naz said it would be easier if Alpharetta's program accepted more materials, like McDonald's toys, clothes, metals, any reusable material, plastic bags and pretty much anything that is not perishable. Shah mentioned it would be great if he could put hazardous materials like household batteries and light bulbs in the recycling bin in Chandler. Rose thinks that if recycling pick-up was free in Brownsburg, more people would do it. She also thinks that if the town put recycling bins in more public places, people would use them.
Are cities encouraging their residents to recycle?
Despite their questions and concerns, all five subjects felt that their cities encourage recycling. Faysal reports that Evanston definitely encourages recycling, as evidenced by the recycling bins placed around the city in public areas. Naz said that while Alpharetta might not be as vigilant about recycling as other parts of the country, the city still puts in an effort. As an example, she says that the city allows residents to take large items to recycling centers on certain days for free. Shabana feels that Carlsbad also cares about recycling because there are recycling bins everywhere in the city — even on the beach! Rose thought that Brownsburg probably cares about recycling, but perhaps the city does not have the funds needed to provide residents a widespread and effective recycling program.
Conclusions
We have come a long way in everyday residents participating in recycling over the years. But, judging for this small sampling, there are still some areas that need improvement, like clarification about what is accepted, what happens to recyclables and how the process works. It seems that people would like to recycle even more items, like light bulbs, plastic bags and batteries, but they feel they do not have an easy way to do that. Despite these gaps in service, it was good to see that the five people interviewed felt encouraged by their cities to recycle and to make it into a family habit.