Background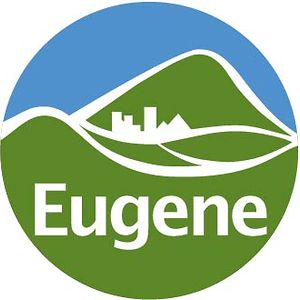 Eugene, OR (pop. 157,986), known for its natural beauty and the bright greens and yellows of the University of Oregon Ducks, is home to a commingled curbside recycling program. The program fees are included in regular refuse pick-up, which encourages residents to recycle more often without concern of additional costs. Typical recyclables like paper, plastics and metals are collected in one bin, while glass products are collected separately in a smaller bin. Eugene also accepts used motor oil at the curb, a progressive move that a few cities are starting to enact.
Materials recycled
Paper
All paper products can be loosely placed in the commingled bin, except shredded paper, which must be placed in a secured paper bag. All cardboard must be flattened and sized to fit the bin. No waxy cardboard.
Plastics
Plastic jugs, tubs and bottles are accepted. No Styrofoam, no plastic bags, no plastic wrap and no plastic packaging material.
Metals
Aluminum cans, steel cans, tin cans, aluminum trays and aluminum foil (crumpled into a ball) are accepted. No aerosol cans, paint cans or chemical cans allowed.
Glass
Glass jars and bottles are collected in a separate glass bin.
Other
Used motor oil may be placed curbside in an unbreakable container with a screw top.
Frequency
Curbside recycling pick-up occurs on a biweekly basis, same day as trash. Bins must be placed curbside no earlier than 7 p.m. the evening before pick-up and must be returned no later than midnight following pick-up.
Other programs
In Oregon, it is illegal to trash electronics. All e-waste must be properly disposed of. Lane County Waste Management Department accepts seven e-waste items or fewer for free. County residents can drop off these items at six sites within the county. Only whole, unbroken items apply. Broken or incomplete items must be properly packaged and will incur a fee. More information on the program, including drop-off locations, can be found
online
. Used paint is collected through Oregon's
PaintCare program
. Several
drop-off sites
are located in and around Eugene. Lane County Waste Management accepts household hazardous waste at the Glenwood Disposal Site (3100 E. 17th Ave.) for free by appointment only on Thursday mornings and two Saturdays per month. Residents must call 541.682.3111 to schedule an appointment. Accepted items include acids and bases, fluorescent lamps and PCB ballasts (4 feet or less in length), fuels and solvents, household batteries, household cleaners, pesticides and herbicides, paint, stains, strippers, thinners, poisons and pool chemicals. Containers must be 5 gallons or smaller.
More information
Visit the
City of Eugene Recycling website
for more recycling program info.